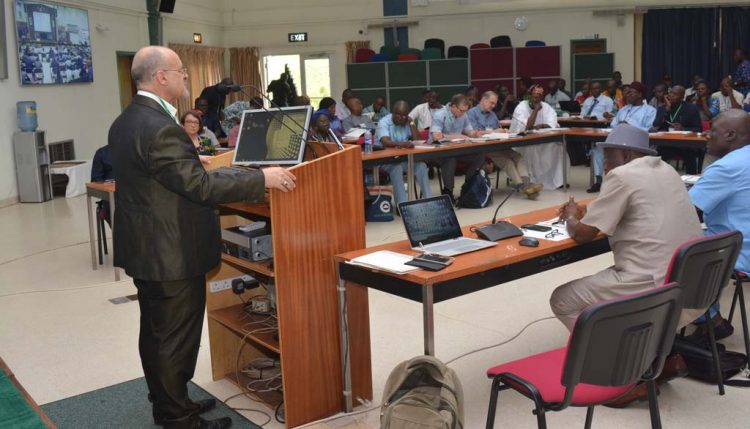 Stakeholders map out strategies to outscale proven weed management technologies to farmers
IITA Cassava Weed Management Project held its 2018 annual review and work planning meeting, on 19–20 March, at IITA HQ, to discuss achievements over the years and draw a roadmap on how to actively engage stakeholders to help outscale proven weed management technologies to farmers.
The workshop themed: "Unveiling of new technologies for weed control in cassava farming systems," was attended by 14 Commissioners of Agriculture, agricultural development partners, policymakers, scientists, researchers, farmers, and chemical companies. The aim was to share new findings on weed management from an integrated perspective covering areas such as best-bet agronomy, use of motorized mechanical weeders, and use of safe and environmentally friendly herbicides, to enable farmers to obtain optimal cassava yield while minimizing the drudgery of hand weeding usually done by women and children.
In her welcome address, IITA Deputy Director General, Research for Development, May-Guri Saethre applauded the participants for their commitment and cooperation in creating time to attend the CWMP meeting. "You all know that cassava is a major staple food in the developing world, with Nigeria as one of the global leaders in the overall production of cassava by over 50 million tons. The average yields in Nigeria are only about half of those in leading countries in Asia. This is as a result of the challenge of weeds against Nigeria's agricultural transformation. I encourage you all to act in synergy and make the best out of this gathering."
In a similar vein, IITA Deputy Director General, Partnership for Delivery, Kenton Dashiell emphasized the importance of delivery to reach millions of smallholder farmers. "And the best way to do that is to engage stakeholders in disseminating innovations and relevant knowledge to farmers, while helping to meet the government's goals for sustainable intensification of agriculture and avoiding food insecurity in the face of population growth, urbanization, climate change, and climate variability," he said.
Giving his remarks, Lawrence Kent, Senior Program Officer from the Bill & Melinda Gates Foundation commended the efforts of the IITA-CWMP team in providing solutions to the labor-intensive weeding and increasing cassava productivity for about 125,000 Nigerian farm families.
"Weed control is one of the important factors determining cassava yield, and I am thrilled to see that the IITA-CWMP is at the forefront in ensuring that integrated technologies such as good agronomic practices, safe use of herbicides, and weed management practices are in the hands of farmers," he said.
He added: "Nigeria stands as one of the largest producers of cassava in the world with a recorded production of about 54.8 million tons per annum with 4.5 million farmers in Nigeria engaged in cassava farming. However, the presence of weeds and poor agronomic practices limit the productivity of cassava, and negatively impact farming families. If these key issues are not addressed, the smallholder farmers will be unable to improve their livelihoods through farming."
In his presentation on the overview of the project from inception, Project Leader of IITA-CWMP, and Director for Development & Delivery, Alfred Dixon highlighted the Institute's renewed commitment to creating impact at the farm level, and also responding to Africa's agricultural realities in the context of food security and wealth creation, while emphasizing the need for strong partnership. Corroborating Dixon's statement, Godwin Atser, Communication and Knowledge Expert, IITA-CWMP stated: "If only the innovations can be disseminated to millions of farmers, we will double the national average of cassava production from 9 tons per hectare to about 25 tons per hectare, thereby ensuring sustainability."
Presentations were made on the output of cassava agronomy, weeding frequency and mechanical weeding trials, the output of integration of herbicides, delivery of project outputs, and innovative strategies to translate findings into extension messages and widespread delivery. There was a special session titled "'The beauty of on-farm trials: Challenges as opportunities," by Prof Kaku Sagary Nokoe, Deputy Vice-Chancellor (Academic Affairs), Catholic University of Eastern Africa, Karen, Nairobi, Kenya.
Dashiell in his closing remarks said: "The unveiling of this innovative technology should not be kept secret. We must build synergy with the public, private, and government stakeholders to help redefine the narrative of cassava in Africa by training and mentoring millions of smallholder farmers within the various states. This is going to be a major step forward in transforming African agriculture."