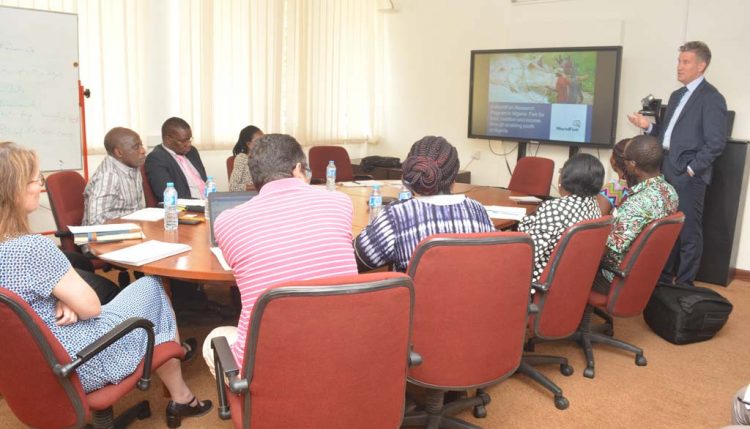 WorldFish seeks collaboration on hosting agreement and TAAT initiative
As a follow-up on the stakeholder workshop on the development of the WorldFish Nigeria program with the Nigerian Government, representatives from WorldFish visited IITA Ibadan, on 22 March, to seek collaboration to move their agenda forward.
A team of four led by Dr David Shearer, Director, International Partnership, and Dr Harrison Karisa, Country Director of Nigeria and Egypt, was received by IITA Management, and representatives of IITA Youth Agripreneurs (IYA). In her welcome remarks, Hilde Koper-Limbourg, Deputy Director General, Corporate Services, gave a breakdown of IITA's achievements and success stories to date and emphasized IITA's commitment with various partners across Africa to uplift the face of agriculture. "We are indeed glad to have you in our midst, and I am looking forward to a productive collaboration as it is essential to achieve development impact," she added.
Stating the purpose of the visit, Shearer said: "With a similar aim of reducing hunger and poverty for millions of smallholder farmers, we would like to collaborate with IITA on a hosting agreement, and also leverage on the Technologies for African Agriculture Transformation (TAAT) initiative to enable us to handle priority issues as regards aquaculture in Nigeria.
"Although WorldFish is present in Nigeria, there is a need for us to grow our presence in the region. Fish consumption worldwide is about 20 kilograms per person per year. In Africa, it is only 10 kilograms per person per year. Forecasts over the next 10–20 years indicate that Africans will eat less fish. Hence, to change the trend for fish gain, there is a role for WorldFish to play in improving the consumption of fish over the long term," he added.
The delegates held discussions with the Institute's management regarding their hosting agreement, which covers office space, housing within the campus, financial management, internal auditing, and possibilities of partnering with TAAT to help scale out proven technologies in Nigeria and other countries like DR Congo, to solve farmers' problems. Discussions were also raised on how "aquapreneurs" of the IYA model can tap into the collaboration to expand their scope of horizon while learning from their wealth of experience.
Chrys Akem, TAAT Project Leader, gave an overview of the components, work plan, and plans of TAAT. On that note, Shearer said: "Aquaculture is one of the key compacts of TAAT, and it has a special focus around self-sufficiency of inland fisheries, which is also one of our objectives. Through our engagement with the TAAT program, I believe WorldFish will predominantly be established in Nigeria and Africa at large. This will enable us to achieve our aim of improving the biodiversity of fish in people's diet.
While commending IITA for its support, Karisa stated: "Having selected Nigeria as a focal country for WorldFish to grow its presence, it would have been difficult starting from scratch without IITA's support. I think that is a very positive move from IITA. We implore IITA's continuous commitment, to ensure efficient delivery of our program in Nigeria. I can say for sure that we have been very successful in our mission!"