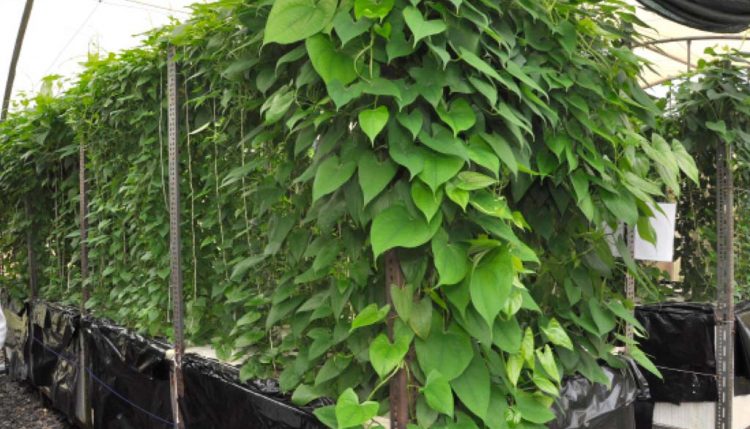 YIIFSWA II commended for "great start!"
The 2nd annual progress review and planning meeting of the Yam Improvement for Income and Food Security in West Africa phase two (YIIFSWA-II) project was held 5-8 March at IITA Headquarters in Ibadan, Oyo State, Nigeria.
The focus of the meeting was to review, assess, and plan based on the implementation and the delivery of outcomes of the first year of the project.
The meeting was attended by 43 participants from the following organizations: IITA, Context, Sahel Capital, the Alliance for a Green Revolution in Africa (AGRA), the National Root Crops Research Institute (NRCRI), National Agricultural Seeds Council (NASC), the National Centre for Genetic Resources and Biotechnology (NACGRAB), the Federal Ministry of Agriculture and Rural Development (FMARD), the Technical Committee on Nigeria Yam Export Program, the Crops Research Institute (CSIR-CRI), Savanna Agricultural Research Institute (CSIR-SARI), Plant Protection and Regulatory Services Directorate (PPRSD), Biocrops Biotechnology Limited, Da-Allgreen Seeds Limited, Nwabudo Agro Seeds Limited, PS Nutraceuticals International Limited, and Heritage Seeds Company Limited.
A significant achievement of the project this year was the presence of four seed companies who had all signed contracts with the project affirming their desire to participate in the production of high-quality, early generation seed yam using the aeroponics system (AS). Two seed companies are currently building their aeroponics facilities and will be receiving training on AS production of foundation seeds. PS Nutraceuticals, an agribusiness initiative established by youth, completed the establishment of an AS in Ogun State last September and received 500 pre-basic plantlets from IITA for planting in AS.
After the three-day progress review and work planning, Gates Foundation Senior Program Officer commended the project for the good start, "Robert Asiedu, IITA's West Africa hub director, commonly says 'well done', but I will say 'great start'! We have a good start here. This is a dynamic learning experience. We are seeing the maturing of what happened in the last stages of YIIFSWA, when the aeroponics system and the temporary immersion bioreactor were developed. As these technologies continue to be refined we are still learning from things like the micro tubers."
He continued, "The success of the project depends on good coordination, especially as you continue to define what an efficient seed supply chain can be. Different market actors are reliant on the outputs of others. Systematic coordination is critical between seed production to offtake marketers who need assurance that their growers can access new seed. This requires facilitating sustainable linkages–especially with those national partners, NASC, NACGRAB, NRCRI in Nigeria and parallel partners in Ghana–to the private sector. There is a big task ahead, but also an enormous opportunity, so this coordination needs to be a priority," he said.
"You must also continually advocate to government the value and business case for increasing the commercialization of yam. It is one thing to keep emphasizing the high value of the crop, but now you must demonstrate that there is a scaling pathway for the seed system. In the past, we have all heard that yam is important and a lot of people eat yam, but the lack of a formal seed system has been hampered by a low multiplication rate. Now we are saying there are some technical breakthroughs in the seed system, offering a new vision for an economically sustainable seed system. Through this, enormous value can be realized by farmers, while helping drive agricultural growth at a national level in Nigeria and Ghana," he concluded.