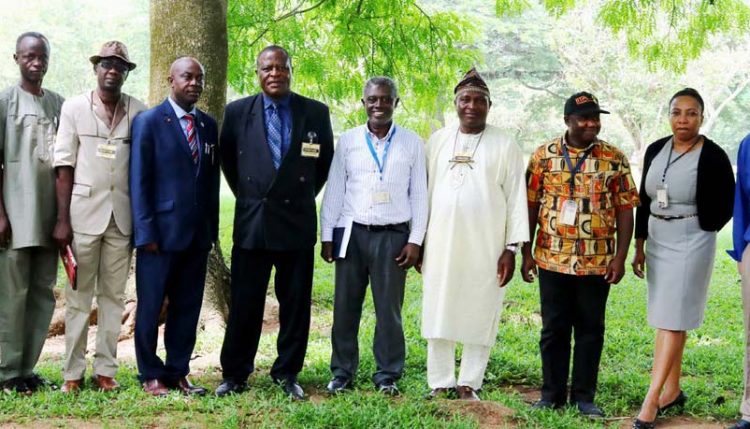 IITA to continue collaboration with Samuel Adegboyega University
A delegation from Samuel Adegboyega University (SAU), Ogwa, Edo State, paid a visit to IITA on 4 April following the signing of an MoU with IITA. The visit is in line with requirements for regular meetings between the two parties. The University team, which was led by the University's Vice Chancellor, Prof Ben Aigbokhan, was received by Robert Asiedu, R4D Director for IITA West Africa Hub (WAH), Michael Abberton, Deputy Director, WAH, and Sylvia Oyinlola, Head, Administration, WAH.
A brief introduction of IITA and its accomplishments over the past 50 years was shared with the visitors, after which the Director gave further information and clarification on new initiatives spearheaded by the Institute. SAU is seeking the actualization of the MoU with IITA focusing on three of IITA's mandate crops; namely, cassava, yam, and plantain. Furthermore they would like to have training for the University staff in this regard. The VC pointed out that SAU is in a rural community, the only private university in Nigeria to be so located. Consequently, SAU wants to, as part of its corporate social responsibility (CSR), provide the host community with access to new technology, planting materials, and training on the three crops, which are the main crops grown in the area.
Asiedu, however, suggested that the University starts with production of one crop at a time. "Cassava production should be the university's priority, followed by training people on how to excel in the area while developing the institute into a center for propagation at the same time."
Asiedu also advised the University team on producing good and healthy planting materials. He said: "It would be important for the institute to be the source of clean planting materials of the three commodities, cassava, yam and plantain, and the varieties that the farmers in that community are already growing in addition to already released new varieties in the country." The suggestion was well accepted by the visitors.
The team was taken on a tour of IITA's facilities by Peter Iluebbey, International Trials Manager, Cassava Breeding, during which Aigbokhan promised optimistically: "By this time next year, we will be harvesting clean and healthy varieties of cassava on a large scale."
To conclude the visit, a debriefing of logistics and expectations from both parties was coordinated by Abberton. It was agreed that SAU will provide land and labor for the project and four selected SAU staff for training; IITA will provide the cassava planting materials and training in the techniques of propagation and health management.