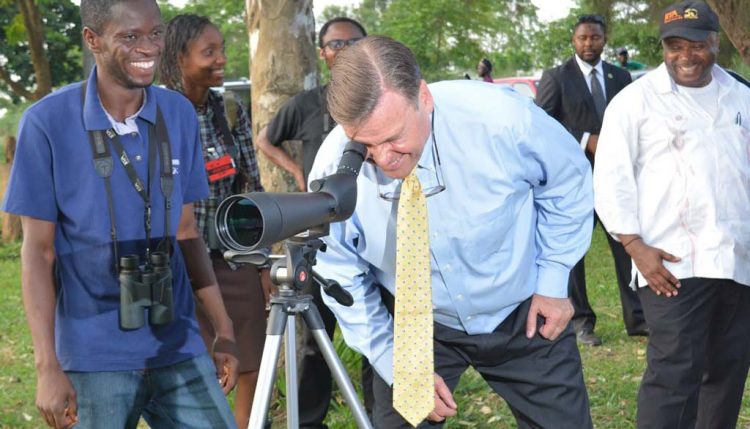 1
US ambassador to Nigeria visits IITA; encourages ecotourism in the country and promotes youth-in-agribiz program
"For too long, Nigerians have lived in one place and forgotten what it is like to live in another," said W. Stuart Symington, the US Ambassador to Nigeria, during a visit with his team to IITA headquarters, Ibadan, Oyo state, 15-16 April.
Symington noted the lack of knowledge about nature among the people, precisely because they have not been exposed to Nigeria's biodiversity and conservation of natural resources.
The Ambassador was received by key members of the IITA management team who made presentations about some of the programs and projects that are being carried out by the institute. Ken Dashiell, Deputy Director General, Partnership for Development (DDG-P4D) spoke about programs in Borno State and the Zero Hunger Forum. Hilde Koper-Limbourg, Deputy Director General, Corporate Services, spoke about the Forest Center; Robert Asiedu, Director, Research for Development Western Africa Hub, detailed USAID activities in Nigeria; Evelyn Ohanwusi, Head, Youth in Agribusiness, made a presentation on IITA Youth in agribusiness activities.
The ambassador and his team were taken on a tour of the institute's forest and some of the campus facilities which include AflasafeTM, NoduMax, cassava fields, and youth in agribusiness activities. He expressed his excitement on the changes and growth that have taken place since his last visit to the institute the year before.
Stressing the need for people to visit IITA and its ecotourism facilities, he said ''I am thrilled to be here. I want you to know how important IITA is; every part of the world needs to produce not just food but the opportunity and hope for the youth. Here in IITA, the young entrepreneurs, who have university degrees and who could not find jobs are now creating their own jobs—in agribusiness, running successful businesses, and are putting other people to work. All thanks to the Director General and his team for their advice and coaching."
To wrap up his visit, Ambassador Symington held a press briefing where he spoke passionately to the youth and Nigerians as a whole to embrace the natural endowment of the country.
He also encouraged the youth to invest in ecotourism, by frequently going on a tour of Nigeria's tourist reserves such as the Obudu Cattle Ranch in Rivers state, Yankari Park in Bauchi State, IITA forest, to mention a few. He said that if the people don't develop the habit of appreciating these gifts of nature, "the identity of Nigeria would be lost."
"If you do not have Nigeria, if you lose Nigeria, you will not have a Nigeria. You cannot have Nigerians without the place. I hope you take time to look at the forest, and the trees and simply say Nigeria, 'wow', because if you are not careful, the 'wow' of Nigeria will be gone, lost forever," he said.
The visit ended with the Ambassador, his team, and guests joining the IITA and Ibadan bird watchers to look at the special birds in IITA. IITA is a Birdlife International Important Bird Area.