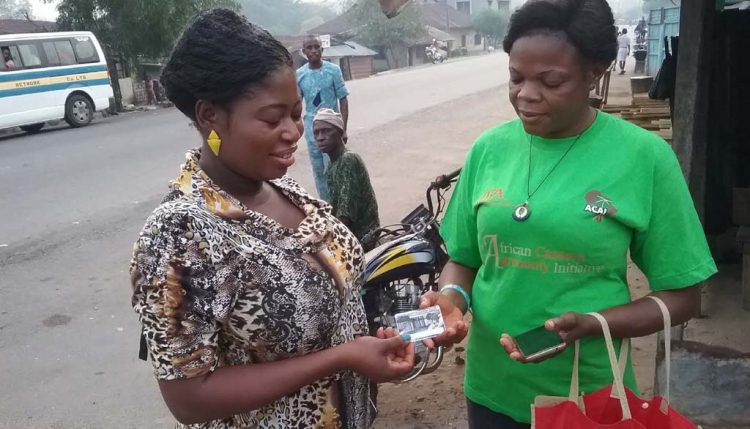 ACAI introduces ID cards for extension agents and cassava growers
The African Cassava Agronomy Initiative (ACAI) has introduced identity cards for cassava growers and extension agents (EA) involved in the project activities. The project started issuing the card at the onset of the baseline survey being conducted by the Monitoring and Evaluation team in Tanzania and Nigeria in January 2018.
The identity cards feature a unique barcode for every recipient that will be referenced to the bearer's details and demographic information. The cards will serve as a means to formally recognize the contribution of the farmers and extension agents to the project activities.
The introduction of the cards is a move by the project implementation team to capitalize on the knowledge of the extension agents and cassava farmers and integrate the knowledge into the development of decision support tools.
According to Mark Tokula from the National Root Crops Research Institute (NRCRI) in Abia State, Nigeria, the exercise of registering farmers and extension agents during the baseline survey with a photo capturing feature was especially successful.
[su_quote]"The ID cards have also been highly acceptable to both EAs and farmers. It actually helped in stimulating farmers' interest in participating in the survey. The respondents were very cooperative," said Tokula, who is overseeing the ACAI baseline survey in the region.[/su_quote]
Same sentiments were shared by Deusdedit Peter Mlay of Agricultural Research and Development Institute in Tanzania, who commends the use of the cards, especially scanning to retrieve reference data saying they significantly reduce the amount of time used in running analyses.
More than 4,000 farmers and extension agents have been registered for the new cards in Nigeria and Tanzania. The number is projected to increase as ACAI intensifies activities around validation of the current versions of the decision tools in both countries.
Each card is integrated with the project open data kit (ODK) database and it is expected to help accelerate data analysis and learning through the standardized and harmonized data collection especially when repeating observations over time.
Farmers and extension agents in Tanzania and Nigeria have facilitated the setting up of cassava trial plots in their farms, rapid characterization survey, and collection of important research data. The use of cards in the ongoing baseline survey in both countries has improved data collection from the project sites and will play a significant role in tracking progress and results from farmers' fields.
[su_quote]"ID cards have made it easier for us to record information with higher accuracy and observe the key indicators without difficulty as compared to the previous methods," explains Theresa Ampadu-Boakye, ACAI monitoring and evaluation leader.[/su_quote]
The ID cards are part of ACAI's integration of innovative technology in implementing the project focused on data collection, analysis, and presentation.