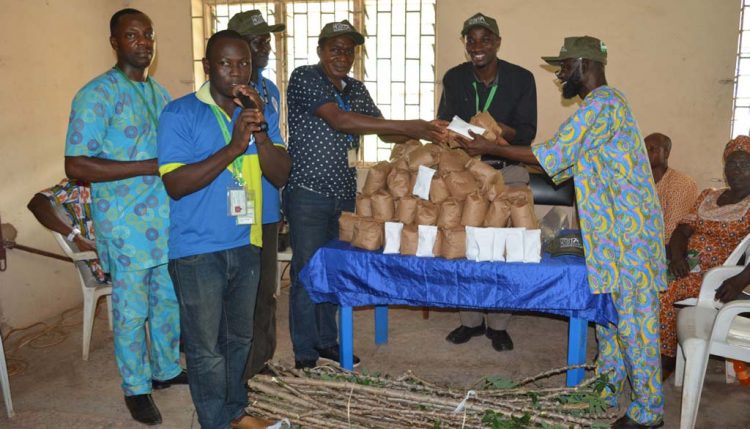 IARSAF disseminates improved seed varieties to farmers as they mark the end of their 21st annual symposium
Taking the 21st annual symposium further, the International Association of Research Scholars and Fellows (IARSAF)-IITA, went on a field trip on 19 April to Ikenne Local Government Area (LGA) in Ogun State and Akinyele LGA in Oyo State to train, disseminate IITA's research solutions, and provide technical support to local farmers.
The visit, tagged "Farmers' Clinic Day," was attended by more than 110 farmers from the two locations, with the objective of discussing some of the challenges they face and proffering long lasting solutions to their problems. This was borne out of the need to ensure that IARSAF fellows' research aligns with the IITA strategy of transforming African agriculture by taking breakthroughs to farmers in their communities.
In his opening remarks, the Chairman, Ikenne LGA, Hon. Rotimi Akinsanya represented by his Vice Chair, Hon. Simisaye Rafiu, appreciated IITA's efforts in ensuring that improved planting materials are in the hands of farmers. "I urge all the farmers to take agriculture very seriously, as it is the best approach to guarantee a bright future for all Africans. Whatever you are being given here today, nurture and monitor it, and I assure you that you will reap a good harvest."
Taofeek Tope Adegboyega, IARSAF President, gave an overview of IARSAF and its activities, while emphasizing the importance of addressing the issues faced by smallholder farmers. "We have come as an association under the auspices of IITA to give a listening ear to all your challenges, and support you as much as we can. This meeting will provide useful take-home solutions for all farmers."
During the training course, specific emphasis on pest infestation, wrong use of herbicides, and low yield and income generation were highlighted by most of the farmers as major problems threatening their yields. Segun Ademola, a farmer from Ikenne LGA stated: "I am proud to be called a farmer, but because of the high level of pest infestation in my cassava and vegetable farm, I am not always proud of my yield. I need IITA's intervention and support."
Ruffai Ekpo, a cassava and maize farmer, stressed that his major setback in farming is lack of improved varieties in the area. "Most times we pay huge sums of money thinking we are getting improved varieties, but when we plant and harvest, it is obvious that what we paid for was not what we got. We appeal to IITA for assistance." Also in attendance were farmers from the Sacred Heart Church of the Catholic Diocese of Ijebu-Ode mobilized by the IITA Head of Administration, West Africa Hub, Sylvia Oyinlola.
Moses Anzenge, IARSAF Public Relations Officer, talked to farmers on best-bet weed management practices, including appropriate spacing, tillage, use of improved varieties, and the use of safe and environmentally friendly herbicides. "Without farmers, there is no future, so I encourage you all to carry out good agronomic practices to increase your productivity," he added.
To enlighten the farmers, Wilson Igbaifua, IITA Farm Manager, asserted: "We have heard all your problems. We will assist you as much as we can today by giving you improved seed varieties of maize, cassava soybean, and cowpea."
The Association presented about 10 bundles of cassava stems, 50 kg of maize seed, and 20 kg of soybean and cowpea seeds to farmers in each of the locations as part of extending the knowledge generated by IITA.
"Multiply whatever we give you today by planting, because they are foundation seeds and are meant for regeneration purposes. I assure you, if you have planting materials from IITA, you are guaranteed 100% germination," said Igbaifua.
In excitement, the farmers commended IARSAF and IITA for training and disseminating foundation seed to them, after which the scholars embarked on a tour of IITA Ikenne station.