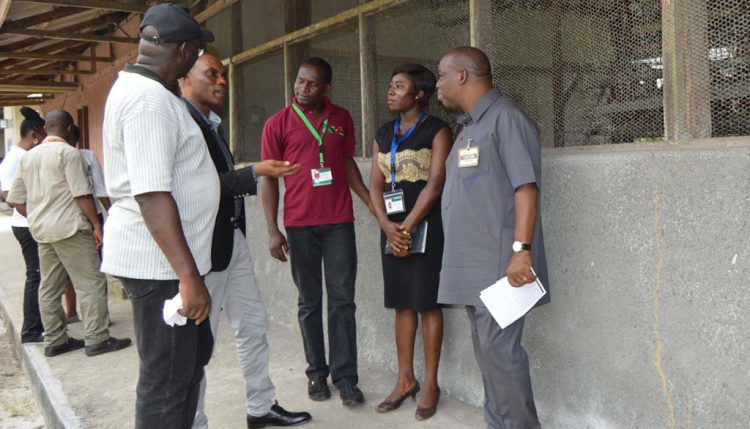 IITA-Onne reestablishes ties with Niger Delta Development Commission
The IITA station in Onne, Rivers State, has reestablished strategic partnership with the Niger Delta Development Commission (NDDC) in the areas of capacity development, youth empowerment, and service provision. The discussions were initiated during a visit made by IITA-Onne Head of Station, Richardson Okechukwu accompanied by Chinyere Onyendi, Communication Assistant at the NDDC Headquarters in Port Harcourt.
In receiving the duo, NDDC officials comprising Mr Marcel Eshiogu,Director of Agriculture; Dr Luke Ibanga, Deputy Director of Agriculture; and Aju Aniette Ufut expressed their remorse for not reaching out to IITA first. "It is a shame IITA has been in Rivers State and we have not been able to visit them first!" Mr Eshiogu echoed.
Okechukwu, speaking on the existing partnership with NDDC in the Cassava Enterprise Development project where about 600 processing centers were established across the NDDC states, explained that the station was shut down for a decade, but has now been back in operation for two years. He reiterated that the station is the best breeding site for plantain and banana and is active across the value chain: production, processing, capacity building, marketing, service provision, and the youth program. He further said that the station is well known for its training program. However, the challenge has been getting start-up funds for the trainees, hence the need to create strategic partnerships.
NDDC was delighted to learn of the Institute's return to Rivers State and reiterated the agency's commitment to partner with IITA. In a bid to strengthen the collaboration, the officials made a return visit to the station during which the NDDC Director of Agriculture said the agency is on course to strengthen its partnership with the Institute on agribusiness empowerment of the Niger Deltans.