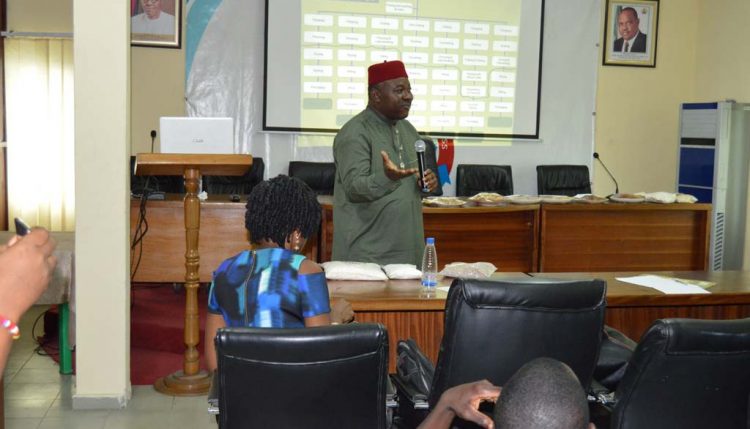 Women and youth sensitized on agribusiness
To commemorate the 2018 International Women's Day, IITA-Onne delivered a talk on women and youth empowerment in agribusiness at the Nigerian Association of Chambers of Commerce, Industry, Mines and Agriculture, Business Women Group (NAWORG) Rivers State Chapter exhibition week tagged "Start small, grow it Big," held at the Port Harcourt Chambers of Commerce. Several organizations and SMEs were also present to showcase their work and recognize and celebrate innovations.
Speaking at the event, Richardson Okechukwu (Head of station, IITA- Onne) enlightened the participants on value addition of agricultural produce and the skills required to improve agribusiness. He explained that the alarming increase in the Nigerian population has awakened the agribusiness sector, thus the high demand for farm produce.
He encouraged the interest of the women and youth in agribusiness saying that agriculture has transcended the use of crude implements such as hoes and cutlasses. He further said that entrepreneurial, visionary, leadership, and innovative skills are important to have comparative advantage over other producers; adding that learning about the business which includes branding, packaging, marketing, and other business information are very key as well. He also pointed out that business sustainability requires the Agripreneur to be conversant with government policies, and maintaining natural resources and the environment.
The IITA stand had a great turnout of visitors who showed interest on how to make some of the products on display. Many visitors expressed appreciation for the "great work that IITA was carrying out." The climax of the event was when the participants tasted the plantain wine and other postharvest products made from cassava and plantain.
The team at the IITA stand comprised Chinyere Onyendi (Communication Assistant), Ijeoma Ebulie (Account Assistant), and Jacinta Ezurike (Training Officer).