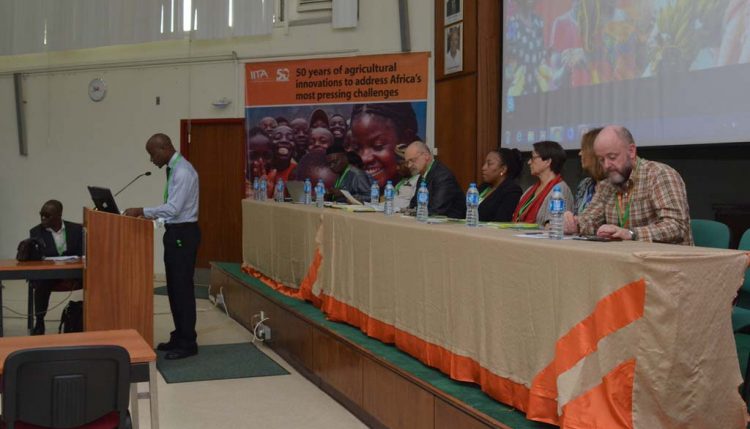 Researchers discuss bridging research and industry for a stable continent at IARSAF 21
More than 200 researchers convened at the IITA Conference Center on 16– 19 April for the 21 st Annual Symposium of the International Association of Research Scholars and Fellows (IARSAF)-IITA to interact, provide an update on their research activities, and exchange innovative ideas.
The 4-day conference, themed "Sustainable Graduate Research for Transformation of Africa's Agro-food and Industrial Utilization," was timed to merge with special sessions tagged "Mentor and mentee" and "Farmers Clinic day." The meeting was attended by lecturers, research scientists, policymakers, and delegates from the Federal Ministry of Agriculture and Rural Development, with the aim to critically seek avenues to link graduate research with the agro-industrial sector to help contribute to reducing food and nutritional insecurity in Africa.
In welcoming the participants, IITA Director General Nteranya Sanginga, represented by May-Guri Saethre, Deputy Director General, Research for Development (R4D), applauded the scholars for choosing a topic of great importance to the ongoing transformation agenda in the African agricultural sector. "It is particularly vital that you aligned your topic towards solving the challenges of climate change, invasive pests and diseases, and population growth. This symposium will certainly be the first step in this direction. On behalf of the entire IITA, we assure you of our continued support in driving the R4D agenda of IITA to ensure Africa succeeds in transforming its agriculture in a sustainable way for a better future for all Africans."
IARSAF is an organization of scholars working on their master's and PhD degrees in collaboration with IITA scientists and their universities. IITA supports the group because one of its mandates is to increase the research capacity of young researchers who represent the future of agricultural research and transformation in Africa.
Giving his goodwill message, Kenton Dashiell, IITA Deputy Director General, Partnerships for Delivery (P4D), encouraged all the participants to do more than reading, writing, and getting high scores in examinations. "I want you to know how essential it is for you all to be more than students. Count yourselves lucky to belong to the agricultural sector; but you need to stand out by not allowing your research to remain on the shelf. Make a difference by delivering and disseminating the results of your research to satisfy current needs of farmers and the industries."
Concurring, Michael Abberton, Head, IITA Genetic Resources Center, said while delivering his keynote lecture: "You cannot write good papers unless you have read good papers. I ask you all to read critically if you want visible social economic impact of your research work."
During the plenary session, oral and poster presentations were made across IITA's research thematic areas: natural resources management, plant production and plant health, biotechnology and genetic improvement, agrobusiness and social sciences, and food and nutrition science. Following the session was the official launch of the IARSAF website (www.iarsaf.org) by Hilde Koper-Limbourg, IITA Deputy Director General, Corporate Services.
At the mentor and mentee session, the fellows had the opportunity to learn and interact with Saethre; Robert Asiedu, Director, Research for Development, IITA-West Africa; Dashiell, and Kwesi Atta-Krah, Director, Systems and Site Integration as they shared knowledge about their experiences, to help them manage their research challenges.
"This is an opportunity for the gathering of great minds. At this point, it is important to know that this year's theme is unique because it covers three key areas: research, academics, and industry. As young researchers it is crucial you take full advantage of this symposium, as you are at the frontier in solving African problems," said Professor Felix Salako, Vice Chancellor of the Federal University of Agriculture, Abeokuta (FUNAAB), while delivering his keynote address. In addition, Dr Ayoola Oduntan, Group Managing Director, Amo Byng Group, Lagos, emphasized that the participants should endeavor to "harmonize their thoughts, network with other researchers, have a more 'problem- solving' mindset, and be more innovative to ensure finding long-term solutions to the logjams threatening food security and economic growth in Africa."
Abberton, Salako, and Oduntan were presented with certificates for their support, guidance, and mentoring as well as sharing their vast wealth of experience.
In concluding the meeting, IARSAF President Taofeek Tope Adegboyega encouraged the members to "be the change that we want to see, for surely, a food-secure Africa will be a stable and prosperous continent."