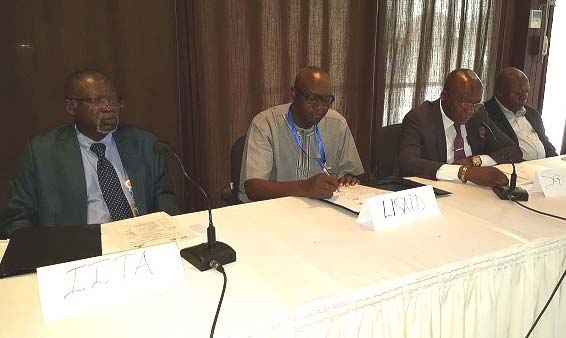 Workshop on ''Validation of the revised and harmonized standards for seed system in DRC''
On 4 April, IITA organized a workshop on validation of the revised and harmonized standards for healthy cassava plant materials production, control, and certification. This was coordinated within the framework of the Action to Control Cassava Brown Streak Disease in the Democratic Republic of Congo (CBSD-DRC) project.
The workshop was chaired by the General Secretary for the Ministry of Agriculture, Mr Evariste Bushabu, who officially opened the session. It registered the participation of several institutions involved in seed regulation, including the National Seeds Service (SENASEM) and the National Agricultural Research Institute (INERA) and IITA as well as donors such as the Food and Agriculture Organization of the United Nations (FAO), United States Agency for International Development (USAID), and PDPC.
In his opening speech Mr Bopeming welcomed the efforts of IITA, INERA, and SENASEM, not only for updating of standards for the production of healthy cassava stem but also for the implementation of a strong seed system sector with the aim of agricultural production improvement in DRC. He pointed out that only the seeds from registered varieties in the national catalog can be multiplied and marketed through the country from now. He also thanked the donors for the long-standing support of providing the tools for good management of the cassava plant subsector in DRC.
Welcoming the participants, Country Representative of IITA-DRC and Coordinator of CBSD project, Mahungu Nzola-Meso, stated that for good productivity in the agricultural sector, Africa—in particular Congo—needs to produce a quality seed system for the development of value chains. So it is "necessary to review and harmonize the national seed system standards for the regulation of healthy cassava plant production to allow the plant material producers to contribute more in fighting against the Cassava Brown Streak Disease (CBSD), which mainly spreads by stem cutting exchanges, as well as other diseases."
Also, Mahungu used the opportunity to welcome the support of USAID by funding the promotion of the cassava crop in Africa and particularly in DRC.
Participants at the workshop included delegates from the University of Kinshasa, FAO, Ministry of Agriculture, HarvestPlus, USAID, IITA, INERA, SENASEM, National Service of Popularization (SNV), and the private/youth sector.