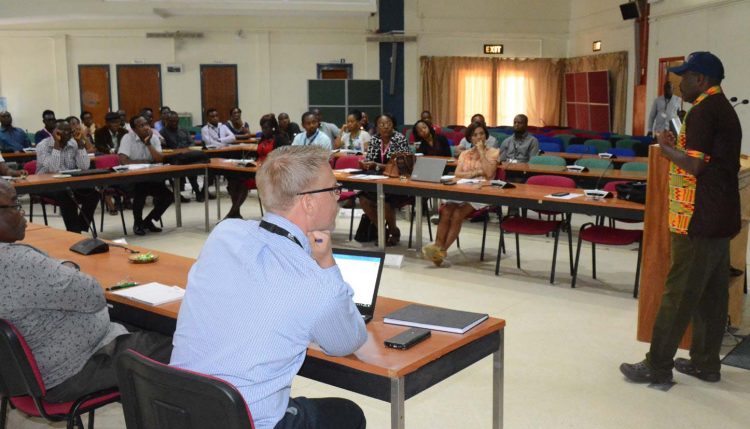 Research Support Services discuss achievements and way forward
The research support day held at IITA Conference Center, on 7 May, brought together staff members under the Research Support sub-directorate, including Communication Unit, Data and Information Management Unit (DIMU), Monitoring and Evaluation Unit (M&E), and Project Development and Administration Unit (PDAU). The workshop was organized to discuss the status, achievements, and future plans of each unit and was attended by more than 100 staff.
In his opening remarks, Tonny Omwansa, Director, Research Support Services, encouraged the team to be more efficient and resilient in the use of modern technologies that have been put in place to enhance the delivery of services. He announced to the participants that his official mandate is to focus on the automation procedures to upgrade financial processes and enhance project.
In his presentation titled "IITA Enterprise Resource Planning Enhancement : Automation," Omwansa highlighted that the key success factors in the automation plans are people, processes, and technology. The automation mission should be user-friendly, easily maintained, and should be accessible from multiple locations. It has a fundamental role of supporting multiple currencies, multiple Research Support Services discuss achievements and way forward organizations, seamless integration of Oracle with other applications, and managing application configuration.
Katherine Lopez, Head of Communication; Rosern K. Rwampororo, Head, Monitoring & Evaluation Unit; Allan Liavoga, Head of PDAU; and Martin Mueller, Database and Knowledge Management Expert, gave updates on activities and future plans of units and some key initiatives.
In concluding the meeting, discussions on how automation would impact work plans for 2018, in addition to the potential impact on key departments within the institute were made. Omwansa solicited the participants' support, saying: "This is a huge and complex initiative. I need all your support and hard work to achieve a substantial result very soon."