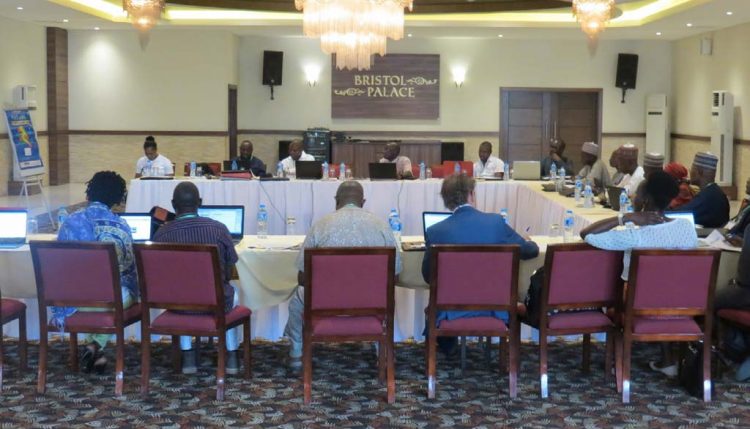 2
N2Africa Phase II in Borno, Nigeria organize annual meeting
To ensure effective and continuous use of legume technologies that have been introduced to enhance smallholder farmers' productivity, partners in the N2Africa-Borno phase II project came together in Kano State, Nigeria on 24– 25 May to review progress and develop implementation plans focusing on addressing the gaps identified.
Being on the last year of Phase II implementation, the project team and the national partners focused on exit strategies based on the gaps identified that would ensure sustainability of N2Africa legume technologies and its relevance to legume farmers now and in future.
In his address, Nkeki Kamai, Country Coordinator, N2Africa Borno, recounted the achievements of the project in the areas of building sustainable partnerships and expertise in nitrogen fixation, empowering women and youth, and ensuring food security–the aims of the N2Africa project.
"To date, we have been able to establish strong and firm partnerships with various NGOs, and public and private sector companies. In improving soil fertility, the adoption of Nodumax by farmers has rapidly increased productivity, and this has invariably improved food security, nutrition, and incomes for smallholder farmers."
"In cowpea, we have recorded a 72% adoption rate of improved varieties. We are hopeful that the technologies N2Africa avails to farmers would be increasingly adopted by groundnut farmers as we still have over 16,000 farmers to reach," Kamai added.
Fred Kanampiu, N2Africa Project Coordinator, emphasized that "Every year we have been able to meet or exceed our target in terms of farmers reached. Presently, we have reached about 550,000 households in all the 11 countries that N2Africa project targets. We have formed partnerships which continues to address the challenges in the legume value chain and this has helped in reaching targeted farmers. Further, we have institutionalized this project through capacity building of the staff of national partner organizations to make sure that the local experts from the countries are the ones running the show, working with the government. This has helped in the implementation of this project. This approach, we believe will make smooth the exit of the project."
Kanampiu also added: "We have trained 300 youth 'agripreneurs' in Borno State, of which 200 are now running viable businesses, and that is encouraging." These youths have been trained to initiate viable businesses along the legume value chain.
During the meeting, partners reported on key challenges from the past years and developed workable plans to address during the year.
N2Africa phase II is funded by the Bill & Melinda Gates Foundation through a grant to Wageningen University & Research and is being carried out in conjunction with IITA, International Livestock Research Institute (ILRI), the University of Zimbabwe, and many other partners in DR Congo, Ethiopia, Ghana, Kenya, Malawi, Mozambique, Nigeria, Rwanda, Tanzania, and Uganda.