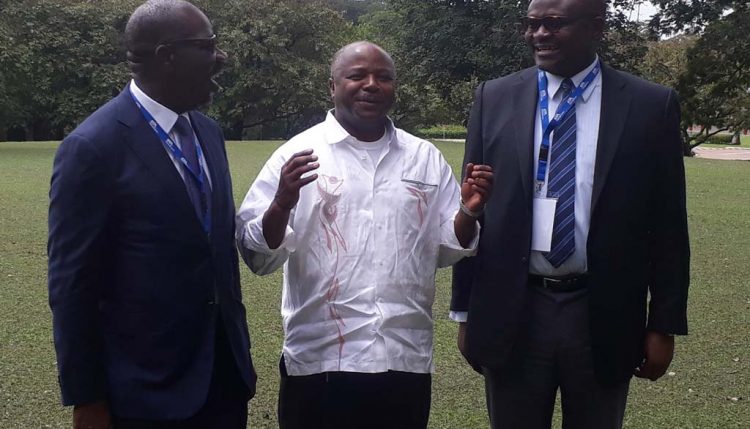 Edo State and IITA explore areas of collaboration on cassava
The Edo State Government and IITA agreed to join forces to bring about transformational change in cassava, as the oil-rich state embarks on reforms to diversify its economy.
Edo State Governor, Godwin Obaseki, revealed his administration's plan to work with IITA after he gave a speech at the international conference on Water-Energy-Food Systems (WEFS) in sub-Saharan Africa organized by Pennsylvania State University in collaboration with IITA and the University of Ibadan, in IITA-Ibadan campus, 26–27 June.
In a meeting with IITA Director General Nteranya Sanginga, Governor Obaseki said his administration's vision was to establish a cassava production zone of at least 50,000 hectares where cassava will be produced and processed with the active participation of smallholder farmers and the private sector.
Though the focus will be on cassava, the State is looking beyond cassava to other crops in which Edo State has a comparative advantage.
"We want IITA to give us a plan that is actionable," Governor Obaseki said.
Grown by over 3.3 million farmers in Nigeria, cassava has transformed from a food security crop to a cash crop in Nigeria, as most industrial companies are looking at the root crop as a source of raw material in confectionary, brewery, and pharmaceuticals.
Sanginga said the use of cassava today transcends gari—a grated and roasted form of cassava that is a source of food to millions of people in Africa.
"Today, companies are coming to IITA and asking us how we can support them in setting up cassava farms as a source of raw material," Sanginga said.
Located in the oil-rich delta of Nigeria, Edo State is endowed with both agricultural and oil resources. However, like other parts of Nigeria, the State is confronted with unemployed youth.
Governor Obaseki said his plan is to create wealth, food security, and jobs from agriculture and put the state on the path of prosperity.
He said that his State's approach to agriculture was to treat it as a business that would bring economic and sustainable development.
Earlier at the conference on Water- Energy-Food Systems (WEFS) in sub- Saharan Africa, both Sanginga and Obaseki recognized the imperatives of the theme, as they spoke in the context of limited/dwindling natural resources, a growing population, and a changing climate.
The two leaders agreed it was time to pay greater attention to the nexus between water, energy, and food systems so that the advancement of one component affects the other positively.
The conference organizers said the objective of the meeting was to build an alliance of partners committed to developing a significant Water-Energy- Food Nexus initiative in sub-Saharan Africa and to develop partnerships between institutions or individuals interested in immediate collaboration around specific research, education, or outreach projects.