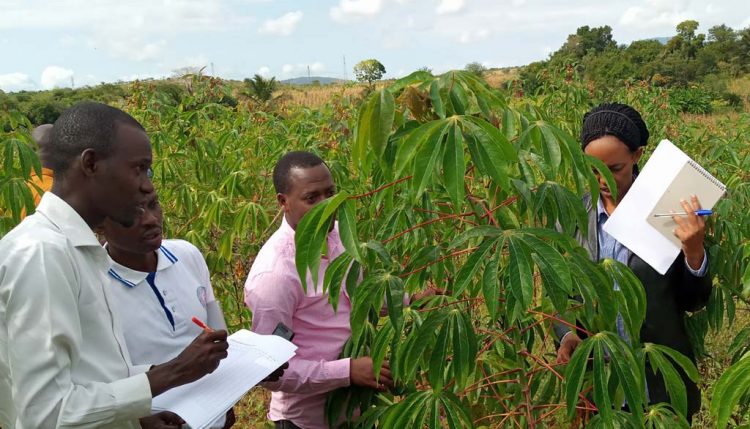 Seed health experts from Burundi and Rwanda visit Tanzania to learn about cassava seed systems
The Tanzania Official Seed Certification Institute (TOSCI) and the Tanzania Agricultural Research Institute (TARI), supported by IITA and Mennonite Economic Development Associates (MEDA), have made great strides in establishing a commercial seed system for cassava in the country. They are leading in the region, bringing their counterparts from Rwanda and Burundi to learn from their experience as they seek to set up their own systems.
Cassava, in the Great Lakes Region of Eastern and Central Africa, has been devastated by successive waves of virus diseases since the 1990s. This started with severe cassava mosaic disease (CMD), followed several years later by the pandemic of cassava brown streak disease (CBSD).
To revive the crop's production in Tanzania and protect the income and food security of millions of farmers, new disease-resistant varieties have been developed and systems for rapid multiplication of virus-free planting material established. A brand-new seed certification system has also been written into the Seed Act and a new cadre of cassava seed entrepreneurs (CSEs) are engaged in the commercial production of high quality planting material across the country.
The visit to Tanzania was held 8-14 July. It was sponsored by a recently initiated project financed by the International Fund for Agricultural Development (IFAD) and coordinated by IITA, which aims to strengthen cassava seed systems in Burundi and Rwanda. During the mission, seed producers, researchers, and seed certification officers from each of the two countries spent several days interacting with colleagues in Tanzania through meetings, institutional visits, and field exercises.
The team visited IITA's East African hub in Mikocheni, Dar es Salaam, and learned about the origins of the clean cassava seed work in Tanzania and how seed certification by TOSCI was facilitating the establishment of CSE businesses producing high-quality planting material.
Their next stop was Kibaha Research Institute where virus-free tissue culture cassava plantlets are hardened and rapidly propagated using two-node cuttings in insect-proof screenhouses as part of the pre-basic stage of seed production. They were received and hosted by the institute's Officer-in- Charge, Dr Kiddo Mtunda.
A visit to TOSCI's HQ in Morogoro gave the visiting team an opportunity to see the excellent progress made by the Institute in incorporating certification guidelines for vegetatively propagated crops into the Seed Act and their routine seed certification work using TOSCI staff and authorized seed inspectors. In addition, new work supported by the BEST Cassava Project is reinforcing human and physical capacity for virus testing and establishing electronic certification using Cassava Seed Tracker™.
The team also had an opportunity to try out the cassava certification system in field sites around Morogoro. Differences between CBSD assessment results of TOSCI inspectors compared with visiting colleagues, who practiced scoring the same plants, showed that teams in Rwanda and Burundi need further training on CBSD symptom recognition. Such a training is planned under the auspices of the IFAD CBSD control project. On their way back to Dar es Salaam, the team visited healthy cassava seed propagation sites of CSEs in Bagamoyo District.
The group noted that one of the key challenges facing seed certification agencies in the region is the harmonization of standards. Team members also agreed that opportunities to share learning between countries are hugely important, and that a key outcome of this visit should be a plan for seed certification and research institutions to engage more closely with the regional bodies, so that improved ways of operating can be shared and applied region-wide. If this can be achieved and linked with other control activities, there is great hope for a lasting solution to the cassava virus disease menace, not just in East and Central Africa, but throughout the cassava-producing areas of the continent.
Acting Director, Seed Inspection and Laboratory Services Unit of Rwanda Agriculture Board (RAB), Beatrice Niyokwizigirwa expressed appreciation, stating: "We learned how to rapidly multiply cassava and how TOSCI does the certification of cassava seeds. In my country, it is not mandatory to certify cassava seed, but this will change soon as we have a draft for a cassava seed systems and cassava seed standards. Soon they will be approved. We also learned how to identify CMD and CBSD. These diseases are a big problem in my country."
Bigamy Mane, Commissioner of Quality Seed and Sales and Marketing at National Seed Producers, COPROPSEBU in Burundi, reiterated the same thoughts, adding: "I have also seen how MEDA and IITA are supporting seed multipliers. We are ready to receive new varieties from IITA that were assembled from the region through the 5CP project. We will also work closely with ISABU on certification to ensure the production of disease- free cassava seed in Burundi."