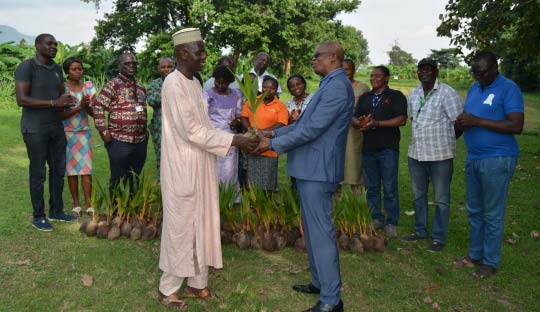 FCT agricultural secretariat donates improved coconut seedlings to Abuja station
The agricultural secretariat of the Federal Capital Territory Administration, Nigeria, has donated 150 improved coconut seedlings to the IITA Abuja station. A presentation ceremony was held on 13 July at the station grounds with a handful of staff from both organizations attending.
Presenting the agricultural materials on behalf of the FCT Minister, the FCT agricultural resident desk officer at the Abuja station, Mallam Aminu Abubakar, stated that they were "meant to add more beauty to the environment."
Receiving the seedlings, IITA-Abuja Head of Station, Gbassey Tarawali thanked the Minister for the gesture, saying that these would be adding to the natural aesthetics of the environment.
The trees have been planted in strategic locations around the station.
The presentation of these seedlings further strengthens the burgeoning collaborative relationship between the FCT Administration and IITA. It would be recalled that the FCT Minister visited the station a few months back, where he promised to support the growth and development of the station. He was the first ever FCT Minister to visit the station since it was established in 1993.