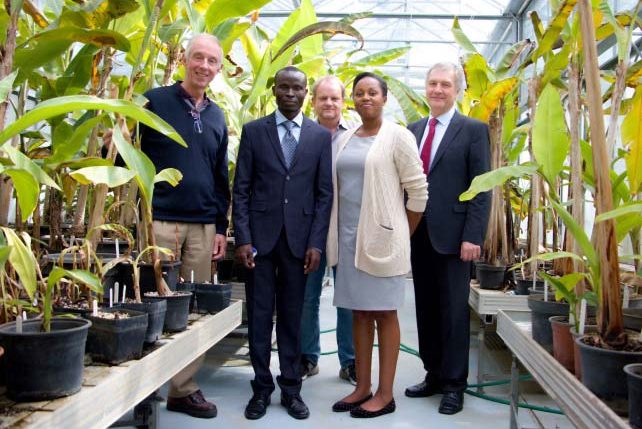 IITA capacity building on banana and cassava breeding helps three students graduate
Building the capacity of its staff and partners is an important mandate of IITA as part of efforts to address the major challenges facing the agriculture sector in Africa. Recently, three students supported by IITA's breeding program graduated—two with the banana breeding program and one with cassava molecular breeding team.
Two IITA banana staff obtain their degree on the same day
On 12 July 2018, Moses Nyine obtained his PhD at the Institute of Experimental Botany, Palacký University Olomouc, Czech Republic, for his work "Genomic selection to accelerate banana breeding: Genotyping by sequencing of banana hybrids."
His PhD was both supported by IITA and the Institute of Experimental Botany. His supervisor was Prof Ing. Jaroslav Doležel, DrSc and his co-supervisors were Prof Rony Swennen and Drs Brigitte Uwimana and Allan Brown.
Nyine is part of IITA's breeding program in Sendusu, Uganda, where breeding of highland cooking bananas, called Matoke, is taking place in collaboration with the National Agricultural Research Organisation (NARO).
Moses started as a lab technician at IITA in 2005, at the molecular and cytogenetics laboratory of the banana breeding program, Sendusu. Then he went for his MSc degree in 2012 at Makerere University, Kampala, Uganda, with an IITA scholarship. His thesis was on "Gene transcript analysis in drought stressed 'AAA' and 'ABB' bananas using next generation sequencing technologies."
The other student, Hassan Shabani Mduma, obtained his MSc in December 2017 and his certificate on 12 July 2018. His Master's in Life Science (Sustainable Agriculture) was supported by IITA and obtained at the Nelson Mandela African Institution of Science and Technology, Arusha, Tanzania. His thesis was entitled "Role of plant parasitic nematodes (Pratylenchus goodeyi Sher & Allen) on Fusarium wilt disease incidence and severity on banana."
His supervisors were Dr Ernest R. Mbega and Prof Patrick Ndakidemi, co-supervised by Dr Allan Brown and Prof Rony Swennen. Hassan started as a research supervisor at the IITA banana breeding team in Arusha in 2012.
Shabani is part of the IITA breeding program at Arusha, Tanzania, focusing on breeding Mchare bananas, another type of a highland cooking banana, in collaboration with the Nelson Mandela African Institution of Science and Technology.
Moses is now a Postdoctoral Research Associate at the Department of Plant Pathology, Kansas State University, while Hassan continues his research at IITA, Tanzania.
Esther Masumba gets her PhD in Genetics
Esther Andrew Masumba successfully defended her PhD thesis in Genetics in June at the Forestry and Biotechnology Institute of the University of Pretoria, South Africa. She presented her prestige seminar titled "Mapping of QTL associated with resistance to Cassava Brown Streak and Mosaic Disease in cassava farmer varieties from Tanzania."
Esther completed her research under the supervision of Dr Albe van der Merwe and Professor Zander Myburg from the university and Dr Morag Ferguson of IITA in Kenya.
Esther's study focused on two genetically related varieties of cassava (Manihot esculenta Crantz) grown by farmers in Tanzania. One, named Namikonga, is tolerant of cassava brown streak disease (CBSD) and susceptible to cassava mosaic disease (CMD), while the other, Albert, is resistant to CMD and susceptible to CBSD.
These contrasting attributes enabled Esther to genetically map the positions of contributing disease resistance genetic factors on the genome of cassava. This will ultimately enable molecular breeders to track these portions of the genome and ensure that future, improved varieties carry the advantageous segments.
This will benefit breeding programs in CMD- and CBSD-affected countries in South, East, and Central Africa, which have experienced declines in yields. Such markers will also help other countries such as Nigeria, the largest producer of cassava, prepare for the arrival of CBSD, by breeding for resistance.
Ferguson said "Esther has worked extremely hard during her PhD studies, has mastered many new skills, particularly in the sphere of bioinformatics, and has enhanced her understanding of genetics. She has produced an excellent thesis and will no doubt make very valuable contributions to the Tanzanian Agriculture Research Institute as she returns to her position at the Institute, based at Kibaha. Congratulations Esther!"