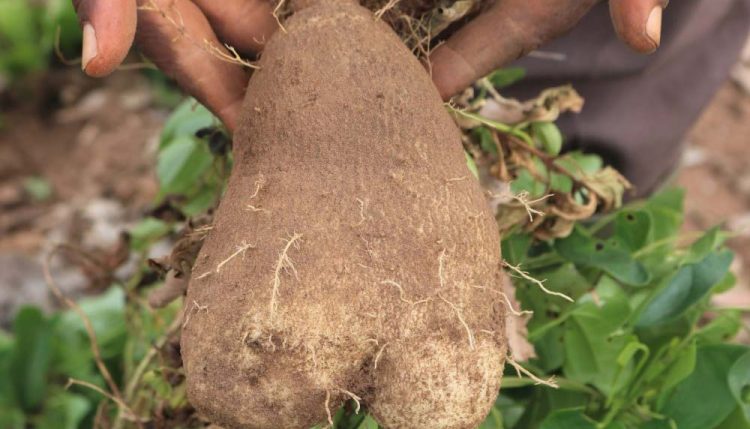 IITA yam breeders harvest SAH yam tubers
Yam seeds produced from Semi-Autotrophic Hydroponics (SAH) plants have been harvested by the IITA Yam Breeding team with some tubers weighing up to 1.1 kg. SAH plants were first transferred to the field on 5 June 2017 and harvested in November of the same year with the largest tuber of yam weighing 470 g. Based on this initial success, the fields were planted between October and November of 2017 and harvesting started in May 2018 when the plants were 6‒7 months old.
SAH is a robust technique for efficient and rapid multiplication of clonal or vegetatively propagated crops with the potential to produce 720,000 plants per year. It is also a suitable technology that can enhance breeding activities.
It has been used to produce seeds, particularly potato and cassava and multiple planting materials majorly for two varieties of Dioscorea rotundata and three varieties of D. alata.
SAH technology is a low-cost, licensed method for high-ratio propagation of true-to-type virus free (VF) plants. The SAH facility for yam was initiated at IITA-Ibadan in April 2017, in the quest to expand the scope of technologies targeted at seed yam production and to complement the existing technologies, which are being developed or refined to meet the growing seed demand of yam growers in West Africa. The technology offers a fast multiplication rate, low-cost production, less than 2% plant loss, and little contamination.
Pelemo Olugboyega, IITA PhD student working on yam multiplication explained that, "The yield decline challenge occasioned by virus and nematode infection can be averted now that there are alternative technologies that can deliver clean seeds to farmers."
SAH also makes available a very robust and accommodating value chain, which different cadres of seed growers can benefit from while growing their seed yam production businesses.
Previously published on AfricaYam News.