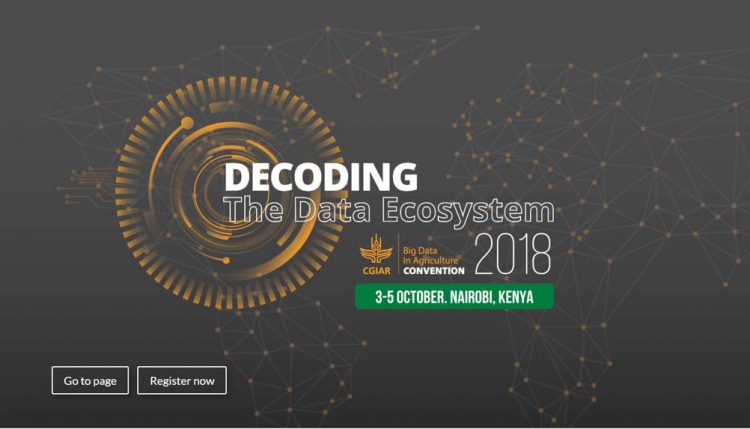 Big data innovations challenge for impact
Aiming to increase the impact of agricultural development through the use of big data to solve development problems faster, better, and on a greater scale, scientists and digital agriculture practitioners in all CGIAR centers will convene at the campus of the World Agroforestry Center (ICRAF) in Nairobi, Kenya between 3 and 5 October, for the Big Data in Agriculture Convention 2018 tagged "Decoding the Data Ecosystem."
The convention, which will be co-hosted by ICRAF and the International Livestock Research Institute (ILRI), is now an annual fixture on the calendar of the CGIAR Platform for Big Data in Agriculture and aims to create an avenue to highlight data-driven approaches to multi-scale food systems analyses, landscapes, ecosystem services, and the special role of animal science in building resilient food systems worldwide.
Scientists will engage in action-based discussions to find commonalities across research institutes, governments, and private organizations to set the stage for a productive and data-driven year ahead.
In view of this, the platform is calling for entries to the Big Data platform Inspire Challenge where winners stand to win up to $350,000. The Inspire Challenge aims to ensure that gathered data results in impact. CGIAR is directing the challenge to partners, universities, and private sector players to use their data to create pilot opportunities that would project the power of big data analytics and ICT to provide unprecedented, multidisciplinary insights to researchers, delivering actionable information to farmers and inspiring others to use big data to create impact.
The initiative funds novel approaches that democratize data-driven insights to inform local, national, regional, and global policies and applications in agriculture and food security in real time; helping people, especially smallholder farmers and producers, to lead happier and healthier lives.
Furthermore, the preliminary assessment will be managed by the Inspire Challenge management team as the pre-assessment focuses on three key categories: Meaningful collaboration, Innovativeness of the proposal, and Data mobilization of underused or misused data. Finalists of this pre-assessment will be notified and invited to present their proposals to a panel of judges at the convention.