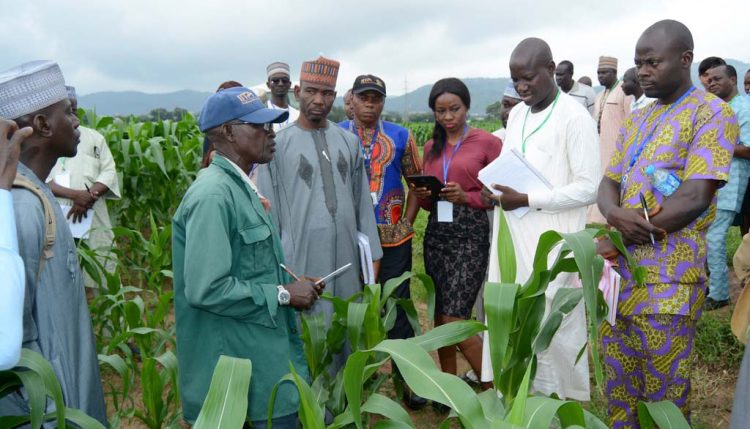 IITA Abuja staff attend Chinese training on improved agricultural technique
Six staff members from the IITA Abuja station joined other participants in Abuja for an "Overseas training course on agricultural techniques for Nigeria." The participants, numbering over a hundred, were drawn from national agricultural institutes, government ministries, the private sector, and academia. The IITA team that benefited from the training were Ben Ijie, Terngu Abur, Oluseyi Akpanika, Faith Omoruan, Samora Hamza, and Uchi Ekeshili.
The training, which focused on the value chains of rice, maize, sorghum, and general Chinese culture, is an annual technical support to Nigeria's agricultural system by China. It was put together by the Shandong Foreign Trade Vocational College with sponsorship from the Ministry of Commerce of the People's Republic of China. It is expected to increase participants' capacity and strengthen their efficiency using modern Chinese agriculture techniques.
In his remarks during the training, Project Officer of Shandong Foreign Trade Vocational College, Xhan Zhongbo said, "China is willing to share agricultural development experience, unselfishly, to transfer the traditional mode of production, improve added value of products, upgrade the competitiveness of agriculture, and promote the development of agricultural technology and trade in Nigeria."
Participants were also taken on a field visit to the IITA Station in Abuja as part of the hands-on learning activities. They were received by Head of Station, Gbassey Tarawali, who gave the visitors an insight into IITA's work across Africa.
Tarawali used the opportunity to express IITA's gratitude to the Chinese government for the all-expense paid training trip for three IITA youth to China, earlier in the year. The IITA youth were Ene Agada, Sini Luwa, and Samuel Magaji.
IITA's involvement in the training came as a result of the earlier partnership established with the Chinese Academy of Tropical Agricultural Sciences (CATAS).