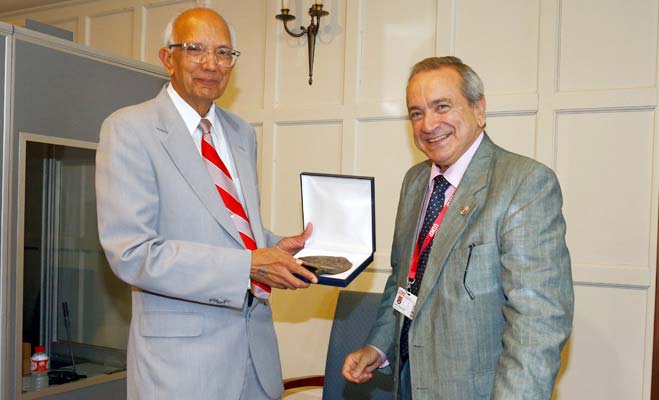 IITA alumnus receives Medal of Honor for academic merit
Distinguished professor of soil sciences and IITA alumnus, Dr Rattan Lal, has been awarded the Medal of Honor from the Menéndez Pelayo International University [in Spanish: Universidad Internacional Menendez Pelayo (UIMP)] in Santander, Spain. The award ceremony took place on 24 July and was attended by the Spanish Minister of Agriculture, Fisheries, Food and Environment, Luis Planas Puchades. The presentation was presided over by officials of the university including the rector Emilio Lora-Tamayo, the general secretary Miguel Ángel Casermeiro, and the deputy secretary general Guillermo Díaz Pintos.
According to rector Lora-Tamayo in his address, the award honors "your outstanding academic merit, which comprises a long trajectory of defense of the environment and, more specifically, for the study of soil as a living body and a key element in terms of global change." Lora-Tamayo also expressed gratitude for being in a position to bestow the honor, stating that "the university feels very honored to deliver this medal."
UIMP general secretary Casermeiro noted that Lal is "undoubtedly one of the most cited authors in the field of soil science, if not the most, with more than 36,000 references," as he has authored and co-authored more than 2,200 articles, books and chapters and is considered a pioneer in the integration of public health in the sustainability of soils.
While receiving the medal, Lal expressed his gratitude to UIMP and all students and teachers who have worked with him throughout his career. As part of his speech, Lal noted that, in the field of soil science, "the best thing is to combine modern science with what ancient cultures say about resources."
Lal, a Nobel Peace prize winner in 2007, is currently the director of the Carbon Capture and Handling Center, College of Food, Agricultural, and Environmental Sciences of the Ohio State University in Columbus, Ohio.
He is also a part of the Conservation Agriculture network of the FAO, which promotes optimized soil health practices and enhances biodiversity and natural biological processes above and below the ground surface, which contributes to increased water and nutrient use efficiency and to improved and sustained crop production.