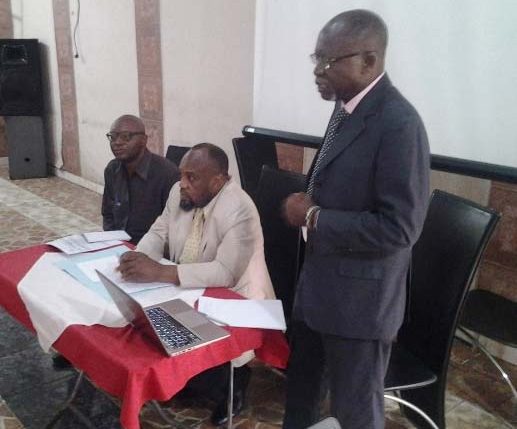 IITA-DRC holds third planning workshop for CBSD Project
IITA's project "Action to control the Cassava Brown Streak Disease in the Democratic Republic of Congo (DRC)," organized its annual review and planning meeting for 2018–2019 in Mbujimayi, the capital city of Kasai Oriental Province.
The opening ceremony was chaired by the provincial Minister of Agriculture, H.E. Charledoux Mbuyi who welcomed the participants. He assured the then IITA Country Representative, Nzola- Meso Mahungu, of his personal involvement and that of the Provincial Government in implementing project activities. He also said the specialized services of his ministry will take into account all the recommendations and conclusions from the meeting for their own development programs.
Introducing the meeting, Mahungu reviewed the objectives of last year's meeting held in Kisangani and invited colleagues and partners involved in the projects to align the presentations to last year's plans.
Each INERA station where the project activities are implemented was invited to show its achievements. Results from different research areas, comprising breeding, crop protection, agronomy and multiplication of planting materials, and monitoring and evaluation were highlighted and discussed. Lessons learned and challenges were drawn, and an orientation was given for the activity planning session. On the following day, scientists from the different research areas constituted four working groups to discuss activities for the 2018–2019 workplan.
During the workshop, three thematic presentations were made on 'Breeding activities and the use of Marker Assisted Selection (MAS)', 'Varietal maintenance in cassava seed system,' and 'SAH technology' by Mouritala Sikirou, Sylvain Bidiaka, and Mamy Binzunga, respectively. On the last day, a session on capacity enhancement of participants on mapping GIS data using Google MyMAPS was facilitated by Adrien Ndonda.
Also, a presentation on IITA finance procedures and requirements for financial reimbursements was done by Samuel Munkiba, the IITA Station Administrator in Kinshasa. He then reminded partners on technical and financial reporting dates given in the partnership agreements.
Workshop participants include the representative from the United States Agency for International Development (USAID), Augustin Kadima, delegates of the Ministry of Agriculture, in particular those of the National Seed Service (SENASEM), as well as researchers from IITA-DRC (Kinshasa and Bukavu) and from the National Institute for Agricultural Studies and Research (INERA), University of Kinshasa, and University of Kisangani. Other partners included the Food and Agriculture Organization of the United Nations (FAO), HarvestPlus Program, WAVE Project, Kasai Agricultural Support Project (PRODAKOR) funded by the Belgian Agency ENABEL, and members of the private sector, including seed agri-multipliers. The CBSD project in DRC is funded by USAID and is now on its third year. It operates throughout the country from pilot provinces including the Central Kongo, Tshopo, South and North Kivu, and Kasai/Lomami.