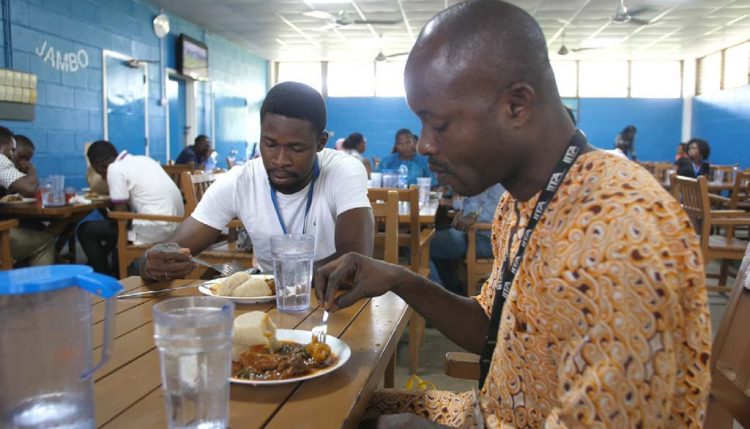 What's for lunch?
IITA canteen: Providing much more than regular food
The staff lunch has been a staple at IITA, Ibadan, for the longest time. Did you know that IITA in Ibadan had been providing free lunch to more than 1400 staff every day?
Charity begins at home, indeed, and through this, IITA, seeks to promote the welfare of its staff, continuously devoting resources to ensure that staff members are properly nourished by providing lunch to staff at the canteen.
IITA is not just known as a leading partner in research and development; it also looks after the well-being of its staff, neighboring communities, and sub-Saharan Africa at large.
The staff canteen at IITA-Ibadan has been in existence for more than 30 years, with the beneficiaries including staff of Pay Grades 1–10, IT students, Interns, and National Youth Service Corp (NYSC) members. Recently, due to the growing population of staff, the Institute commissioned a second canteen to reduce congestion and make staff more comfortable while having their lunch. In an interview, Senior Cook John Gregory Udoh said that they maintain a high level of cleanliness and hygiene by ensuring that meals are prepared in good and safe environmental conditions suitable for human consumption, as the well-being of the staff is their major priority.
"Being advocates of safety and the eradication of hidden hunger, IITA has made strides in making sure that a balanced diet is provided. They have gone a long way in ensuring that staff remain healthy, safe, and sound because a healthy body is one of the foundations of a safe work environment. Challenges such as time constraints have been faced in the past, but now, with the help of dedicated staff, we are able to meet up with the 11:30 start time for lunch," he added.
As an international organization, IITA has been working for the past 51 years to meet Africa's pressing challenges of malnutrition, hunger, and poverty and has practically demonstrated that "charity begins at home." This has given staff a sense of belonging and has shown them that their welfare is important to the Institute.
Commending Management, Canteen Supervisor Muraina Adelodun said, "Before now, staff carried their plates of food in their hands while eating. As a result, staff tried to come early to get a seat. But now, no matter what time they come, there is always a seat for all. The most interesting thing is that they do not only enjoy their food, they also seize the opportunity to look at the TV monitors and see what is happening in IITA and in the entertainment world as most of them might not have time to watch television before the day ends."
Staff members have spoken positively about the benefits of lunch at IITA. Busayo Oluwole, Laboratory Technician in Genetic Resources Center (GRC), sees the lunch provided as a life saver. "Eating at the canteen saves me the stress of leaving the campus in search of what to eat. I am grateful to IITA for this kind gesture and for helping me save cost."
Adejumoke Aluko, Industrial Training (IT) student had this to say: "Comparing myself with my friends in other organizations, I would say that I am lucky to be in IITA. For me, the IITA canteen has gone beyond a place to eat. It is only during my lunch break that I see and network with my friends in other units. I am so privileged to be a trainee in IITA and I especially thank the Institute for having the best food (rice and chicken) as part of our menu. After schooling, I wish to spend years of my career in IITA because it is really a nice place to be."
Watch 'A thousand meals' video on IITA Youtube channel: https://www. youtube.com/user/IITAPUBLISHING/ videos