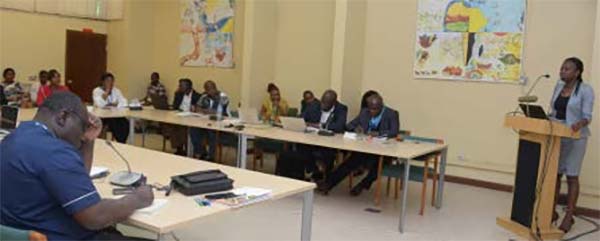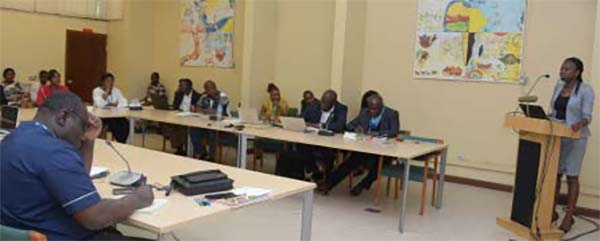 Ivorian delegates visit IITA; acquire knowledge for ENABLE Youth implementation
As a sequel to the Memorandum of Understanding (MoU) signed between IITA and the Government of Côte d'Ivoire to replicate the ENABLE (Empowering Novel Agri-Business-Led Employment) Youth program in the country, 10 delegates from the Ivorian government visited IITA Headquarters in Ibadan, Nigeria on 27–31 August, to learn, exchange ideas, and be updated on the various youth-in-agribusiness initiatives. This was in preparation for the implementation phase of the ENABLE Youth program in the country.
Sougrynoma Zainatou Sore, Head of IITA Capacity Development Office, giving a presentation on IITA's activities from inception to date.
The team, led by Karitia Coulibaly, the Ivoirian Cabinet Deputy Director of the Ministry of Youth Promotion and Employment, was received by key IITA staff and some IITA Youth Agriprenuers (IYA). The visitors explored measures to understand the best practices to adopt for the successful implementation of business incubation platforms geared towards ensuring that youth unlock the potentials of agriculture in the country and beyond.
Speaking at the meeting, IITA Director General Nteranya Sanginga gave a brief narrative of how the IYA forum started, and how it has been his vision to empower African youth to help secure food security in Africa.
Zoumana Bamba, IITA-Congo Country Representative, welcomed the delegates and assured them of the Institute's commitment to providing technical assistance for the smooth running of the program. "IITA is a renowned center, known for training youth to be job creators in the agricultural sector. The ENABLE Youth program has been successfully implemented in various countries including Madagascar and Sudan, and I believe Côte d'Ivoire will also attain great heights," he said.
Côte d'Ivoire's ENABLE Youth Coordinator, Guy-Herve Pillah, stated that with the focus to reduce the level of youth unemployment in the country, the existing collaboration creates an opportunity for the 20 beneficiaries to be properly guided to establish innovative agricultural initiatives. "That is why we have come to IITA to learn from your wealth of experience to enable us to achieve our goal," he added.
In her presentation on IITA Youth and Agribusiness Program, ENABLE-TAAT Youth Coordinator Evelyn Ohanwusi said: "Over the years, IYA has led the way for youth into agriculture and thus, has built its expertise in managing agribusiness projects targeted at the realization of agriculture becoming a business. We have also trained various youth by extending opportunities in agriculture and agribusiness to them as a means to advance economic development in Africa."
The 5-day exploratory program included a tour of IITA facilities, visits to some of the IYA-led activities in Ibadan (Afribroiler, Gracevine, and Frotchery) and Abuja, and discussions with the management on ways to ensure full sustainability of the program.
Commending IITA for its ground- breaking research, Coulibaly tagged the meeting "amazing" adding: "I am happy to see African youth making progress in different agricultural value chains. We are eager to put into practice all that we have learned and I am positive that very soon, you will hear our success stories. We are looking forward to having bigger collaborations with IITA as this could bring about more favorable light in the agricultural sector across Africa."