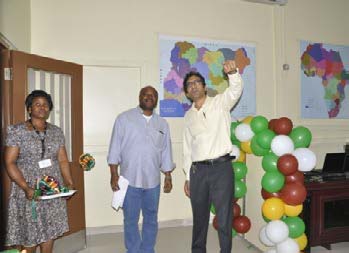 NASC lauds BASICS project for active participation at Africa Expo
The Governing Board and the management of National Agricultural Seeds Council (NASC) have recently expressed appreciation for the active participation of the members of the Building an Economically Sustainable, Integrated Cassava Seed System in Nigeria (BASICS) project at the maiden edition of SeedConnect Africa Expo 2018, which was held in Abuja, Nigeria, on 5–6 June.
NASC Director General Dr Phillip Olusegun Ojo informed the Board of the support provided by the BASICS project at the expo and at other times. The Board, including the Minister of Agriculture, Chief Audu Ogbeh, requested that a formal letter of appreciation be sent to that effect.
In the letter addressed to the BASICS Project Director, Hemant Nitturkar, Ojo reiterated the high opinion held by the NASC management and board stating: "The quality of your active participation at the conference cannot be overemphasized and is in no doubt going to assist in reshaping the focus of the National Agricultural Seeds Council in its resolve to turning it to a center of excellence for seed activities in West Africa."
Relaying this to management staff at IITA and other BASICS team members, Nitturkar was also full of praise for the work put in by the project team. "The Cassava Seed Tracker, led by Lava Kumar, the training of NASC staff at IITA and in UK, and the seed diagnostic lab work, led by Julian Smith of Fera Science have really been seen in NASC and the Ministry as the way forward towards their snowballing efforts to build a center of excellence for seeds in West Africa in NASC," he said.
Ojo further expressed optimism for future collaboration in continuing efforts to reposition the Nigerian agricultural seed sector to its place of pride.