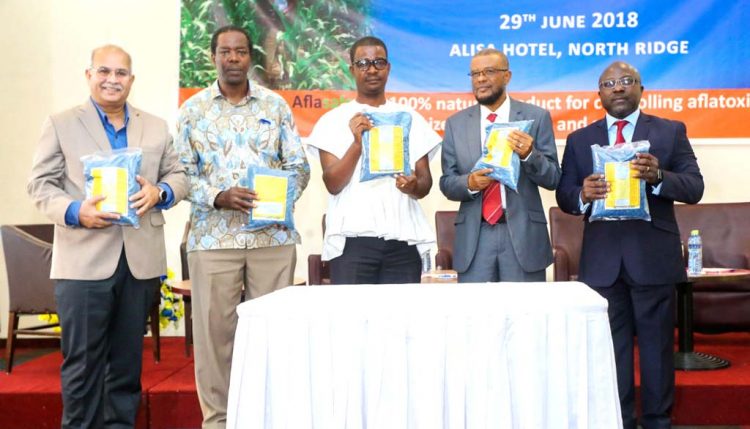 Getting to grips with aflatoxin in Ghana with Aflasafe
Aflatoxin is a major threat to health, food security, and trade but positive change was heralded in Accra recently, at the official launch of Aflasafe GH02. Aflasafe offers a powerful solution to the aflatoxin threat which is amplified when combined with other good practices and with up to 100% aflatoxin reduction in more than half of the tests, Ghana sets a brand-new Aflasafe record.
Besides celebrating the advent and outstanding performance of Aflasafe in Ghana, participants at the launch came to grips with aflatoxin, deliberating on the need for greater awareness, incentives for farmers, and the potential for Aflasafe to transform access to markets.
In his opening remarks, Managing Director of IITA's Aflasafe Technology Transfer and Commercialization initiative (aTTC) Abdou Konlambigue said: "What we are celebrating today is really a joint effort of many years by different kinds of actors at the national, regional, and global level."
The all-natural Aflasafe GH02 is tailored specifically for Ghana and was developed by IITA in collaboration with the United States Department of Agriculture – Agricultural Research Service (USDA ARS), and Kwame Nkrumah University of Science and Technology (KNUST).
The local Ghanaian farmers also made a vital contribution testing Aflasafe on their farms.
With the registration of Aflasafe GH02, Ghana is now the latest of six nations where Aflasafe is on sale. Aflasafe GH02 is distributed in Ghana by our new partner, Macrofertil Ghana Limited, a company established in Ghana by Louis Dreyfus Company to take over its agriculture input business in the country. Louis Dreyfus Company Group is a world leader in agroprocessing and in marketing agro-commodities and agricultural inputs, so it brings proven expertise in reaching farmers.
The Minister for Food and Agriculture, Dr Owusu Afriyie Akoto, was represented at the launch by the Deputy Director of Crop Services in the Ministry, Harry Bleppony, who decried the lack of awareness on aflatoxin, particularly at the grassroots. He emphasized the need for evidence-based information saying: "When people see how hard aflatoxin hits them, they will take it seriously. I describe aflatoxin as a 'slow poison'—language that Ghanaians understand well."
In his keynote address, Professor Richard Tuyee Awuah of KNUST spoke on the challenges of aflatoxin contamination in Ghana, and the parts we can all play in tackling them. This was followed by a lively panel discussion on the event's theme— Aflatoxin control: Whose responsibility?
For the Ghana Export Promotion Authority (GEPA), Aflasafe GH02 comes at an opportune time as it can open up export markets, but also premium domestic ones with urgent unmet demand for aflatoxin- safe grain. According to the Director for Agricultural Export Development, Erasmus Ashun: "We were trying to find solutions to concerns raised by our trade partners, especially the European Union. We hope this product is going to support GEPA in executing its national mandate as we are currently unable to participate in the US$32.5 billion maize world trade, primarily because of excessive aflatoxin in our maize products."
Read Aflasafe media release for details.