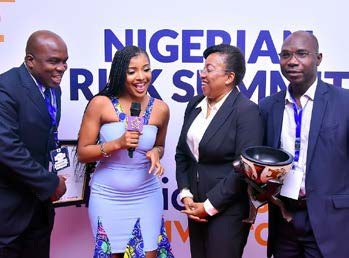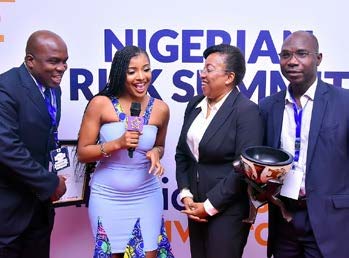 IITA receives award at Nigerian Risk Awards
IITA was among the awardees at the 2018 Nigerian Risk Awards (NRA) held on 6 September in Lekki, Lagos. The Institute was represented by members of its Risk Management Committee (RMC) including Rasheed Fagbenro, Kayode Awobajo, and Sylvia Oyinlola.
Speaking on the selection and assessment process, NRA co-chair Tunde Popoola noted that this year, the award recipients were able to provide evidence of implementation and demonstrate actual value provided by the organizations' risk management programs. He said: "This year's awards recognize organizations that have successfully integrated and that promote risk management culture and practices. The decision-making process is merit driven and a new metric was introduced to attest the evidence of success made by organizations."
IITA won the award in the nonprofit category amid high commendations from the panel of judges.
A member of the panel of judges and Director of KB Risk Consulting Limited in the UK, Kate Boothroyd said:
"I believe this is the first time that IITA has entered the awards. The organization has shown its clear commitment to risk management and provided evidence of the level of detail and effort that they have put into their process, framework, and people. Well done!"
The panel also noted the hard work and dedication of IITA to risk management that has made the Institute stand out, pointing to the fact that the RMC has influenced colleagues selflessly to reach the organization's risk management and safety goals. IITA was also commended on its efforts to ensure participation of all stakeholders in the process.
In his congratulatory message to the RMC, IITA Director General Nteranya Sanginga applauded the work of the committee: "The hard work and dedication of you all has brought this honor to IITA. The IITA Board and Management appreciate the good work that your committee is doing to help strengthen IITA to be able to deliver on its mandate."
"We will support you fully in carrying out this key function. And I personally encourage you to continue your pursuit of cutting edge and excellent risk management administration in IITA," he concluded.
The other awardees at the Risk Summit were the Lagos State Emergency Management Agency (LASEMA), Lagos State Safety Commission (LSSC), Association of Enterprise Risk Management Professionals (AERMP), Dangote Group, Forte Oil, UBA Pensions, and Ex-governor of Ondo State Dr Olusegun Mimiko.