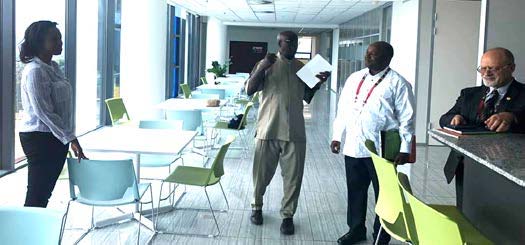 MasterCard Foundation receives IITA delegation in Kigali
IITA Director General Nteranya Sanginga led a delegation from the Institute to the Rwanda office of the MasterCard Foundation on 7 September to explore areas of partnership with the Foundation.
MasterCard Foundation country representative, Mr Alamayehu Konde, taking IITA management around the new MasterCard office in Kigali
While receiving the IITA team at their office in Kigali, the country representative, Alamayehu Konde, expressed appreciation for the work done by IITA with the youth in Africa. He said that the Foundation has a target to reach out to 18 million youth by 2030 and is willing to partner with Africa-based organizations in achieving this. He added that the Foundation intends to work with the countries to define their needs, leveraging on challenges and available opportunities.
Responding on behalf of IITA, Sanginga expressed his delight about the Foundation's work and the approach of working with Africa-based organizations, evident in the opening of the first African office in Kigali. He reiterated the Institute's commitment to work with the Foundation in agrifood and agribusiness opportunities for young people.
The MasterCard Foundation office in Kigali is its first operational office in Africa.