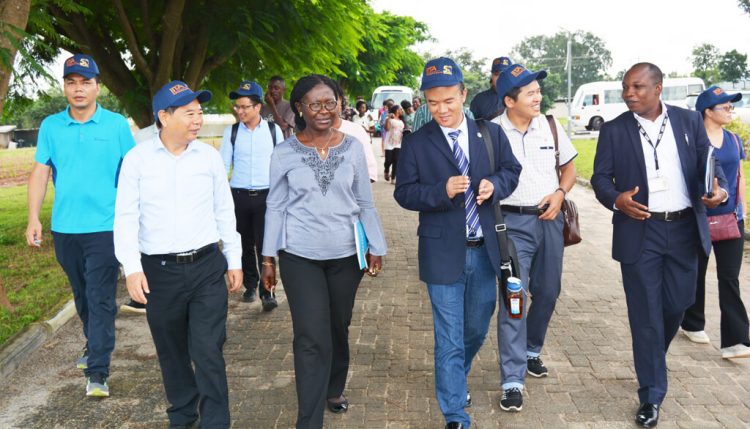 IITA Abuja hosts delegates from Chinese tropical research institute
Under the framework of the memorandum of understanding between the Chinese Academy of Tropical Agriculture (CATAS) and IITA, Prof Liu Haiqing, a CATAS Director, with 12 other delegates visited IITA Abuja Station on 5 September.
Receiving the CATAS delegation on behalf of the Head of IITA Abuja Station, Yam Seed System Specialist Beatrice Aighewi  welcomed the delegates and apprised them of the research and development work being undertaken in IITA as well as the evolution of the IITA Abuja Station.
Haiqing gave a brief background on the work of CATAS describing it as the Institute that "researches tropical crops in China just as IITA in Africa." He thanked IITA for the relationship built over the years: "We are in collaboration with the Changshu Institute of Technology (CIT) where grants are given and we would like to strengthen our partnership with IITA so that IITA will benefit from the grant next year for the development of research laboratories."
He further elaborated on the exchange program, noting that six slots are available to Africans every year. "IITA research students can also benefit from this program," he concluded.
Responding, Aighewi thanked CATAS for the offer of the exchange program. Equally, Ijie Ben Asuelimen, Project Administrator, also appreciated CATAS for the opportunity given to four IITA Youth Agripreneurs to undergo training on crop protection in China last June.
The visit culminated in the delegates being taken on a field tour around the Station to see some of the technologies being promoted by IITA.