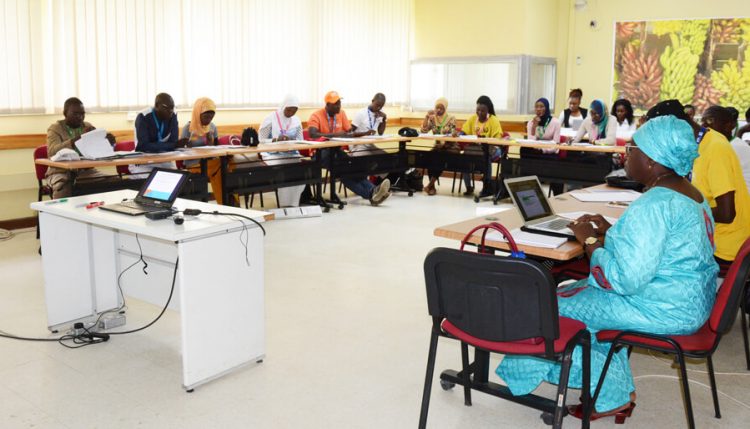 IITA trains ENABLE-Youth Senegal in preparation for implementation phase of project
To learn from the experiences and successes of the IITA Youth Agripreneurs model, 15 beneficiaries of the ENABLE (Empowering Novel Agri-Business-Led Employment) Youth Program in Senegal, visited IITA for orientation training on 3–14 September at the IITA-Ibadan campus.
The youth, led by Cherif Djelani Ndiaye, National Agency for Youth Employment, Senegal, was received by key IITA staff and IYA members. The training aimed to expose and enlighten the participants on the best agricultural practices to adopt for the successful implementation of the program in the country.
In his opening remarks, Zoumana Bamba, IITA Congo Country Representative, apprised the participants of IITA's strategic role in creating job opportunities for youth across Africa. "Through IITA's involvement, the ENABLE Youth Program will mobilize the energies and ambitions of youth as engines for employment and agricultural transformation. The youth engagement approach undertaken by IITA is providing a way out of the two major problems—unemployment and a deteriorating agricultural base. Therefore, I implore you to tap into this opportunity to create wealth and help grow Africa," he added.
The Team Leader for the ENABLE Youth program in Senegal, Birama Sena, commended IITA for providing the opportunity to build their capacities to enable them to be a key player in the agricultural sector in Senegal and beyond. "For us to acquire the skills necessary to succeed in a competitive global economy, we need to be properly mentored and trained. We appreciate IITA for making such a platform available and equipping us with modern agricultural practices and entrepreneurial skills that will help us be self-dependent and able to create wealth."
Molayo Owoeye, Head, Capacity Development, ENABLE Technologies for African Agricultural Transformation (TAAT), gave a breakdown of the activities of the project and highlighted the importance of capacity building among youth who are willing to make Africa a global powerhouse for food and agriculture. "Capacity building is a necessity if today's youth are to be fully engaged in the agriculture sector. However, agribusiness for youth should be seen as a serious undertaking that will determine the future of many young people in Africa," she added.
Highlights of the 12-day training session included lectures, field practical training, interactive sessions, group discussions, a tour of IITA facilities, and visits to some of the IYA-led activities in Ibadan (Afribroiler, Gracevine, and Frotchery) and Abuja. Applauding IITA for its agricultural transformation agenda, Ndiaye stated, "We have learned countless things. With the knowledge and skills acquired in IITA, I am certain that the implementation phase will be successful."
The ENABLE Youth program, implemented by IITA, aims to expand opportunities in agriculture and agribusiness to youth as a means to advance rural livelihoods and economic development across Africa. The Africa-wide program, supported by the African Development Bank (AfDB), is designed as a comprehensive outreach effort that would provide information, proven technologies, and opportunities to about 800,000 youth in at least 20 African countries, of which Senegal is one.