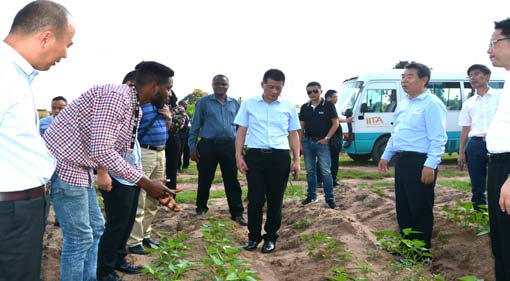 Chinese Changsha Committee on Agriculture visits IITA-Abuja
A 13-member delegation from the Changsha Committee on Agriculture visited IITA Abuja Station on 11 September. The head of the delegation and Chairman of the Committee, Mr Wu Shiping, who communicated through an interpreter, said they were in IITA to explore opportunities of partnership and investment in agriculture in Nigeria with a special interest in the rice value chain.
Receiving the delegation, Gbassey Tarawali, Head, IITA-Abuja Station, expressed his delight saying, "This is about the sixth delegation from China to visit us and it is a good sign; it means there is a relationship. Some of our staff have been trained and now we have a large delegation of investors visiting IITA."
Responding to questions from the delegates, Rice Commodity Specialist Dr Philip Idinoba said: "Rice is a big investment for now and the future. Hence, there are many areas that investors can key into in Nigeria. Rather than import, it will be better for investors to come here and create jobs." Idinoba then pointed out the challenges in the rice subsector and prospects for a good return on investment.
Responding to some issues raised, AgResults Pilot Manager Adebowale Akande pointed out the weight of the value attached to the visit. He said: "There is a big shift from oil, and agriculture is taking center stage, so we must take a look at the generation of people that are in agriculture; the focus should be the involvement of more youth." He shared the success of the IITA Youth in Agribusiness Program and proposed an exchange program for the youth.
N2Africa Senior Business Development Officer Edward Baars proposed a partnership with the Changsha delegation for groundnut export to Chinese businesses.
Chairman Wu equally extended an invitation to IITA to visit their institution and participate in the China-Africa Economic and Trade Fair coming up in 2019.
The delegates were later taken on a tour around the fields of IITA Abuja Research Station.