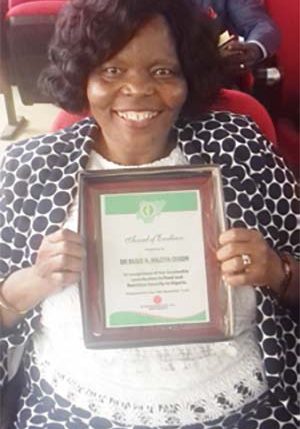 IITA senior scientist, alumnus receive nutrition awards
Every year nutrition professionals and associates from all around Nigeria gather for their Annual General Meeting and Scientific Conference. This year the 48th edition was held in Ekpoma, Edo State, between 17 and 22 September. It was a significant meeting not only for nutrition in Nigeria, but also for the IITA family as IITA Senior Scientist, Busie Maziya-Dixon, was honored with an Award of Excellence in recognition of her significant contribution to food and nutrition security in Nigeria.
Noteworthy in her accomplishments as an IITA scientist is her lead role in the execution of Nigeria's first comprehensive Nutrition and Food Consumption Survey (NFCS). The results of this survey have provided nutrition policy guidance for Nigeria and other African countries for over 15 years.
Currently, she participates in the process of updating the NFCS, as well as leading Nigeria's scientific committee on the Home Grown School Feeding project with a mandate to develop standards and protocols for schools to be used in feeding young children. She is also the lead scientist for the flagship CGIAR Research Program on Agriculture for Nutrition and Health (A4NH) in Nigeria which seeks to provide solutions in the areas of sustainable and healthier diets in collaboration with the Nigerian Government and academia.
With over two decades of contributions to the fields of Food Science, Nutrition, Health and Agriculture, Maziya-Dixon was one of only two awardees in this category at this year's meeting. The other awardee is IITA alumnus Dr Yinka Onabolu, who presently advises the Nigerian Minister of Agriculture on nutrition and development issues.
With this award, Maziya-Dixon joins a unique list of awardees of the society who have significantly advanced the course of human nutrition, food, and nutrition security in Nigeria.