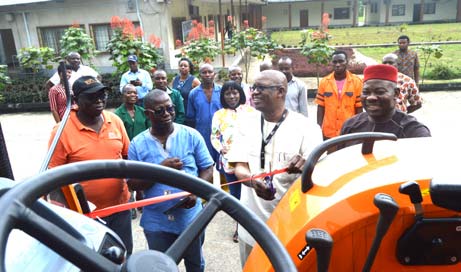 New farm machinery commissioned in Onne
In its continuing efforts to fight poverty and hunger, the Nigeria Agricultural Transformation Agenda Support Program – Phase 1 (ATASP-1 Outreach Program) unveiled a new tractor and other farm implements on 12 September at the IITA Onne Station in Rivers State, Nigeria. Head of IITA Abuja Station and ATASP-1 Outreach Coordinator Gbassey Tarawali presented these at an official ceremony witnessed by the Head of Onne Station Richardson Okechukwu, along with other management and station staff.
Tarawali was accompanied by ATASP-1 Monitoring and Evaluation Specialist Rogers Sheik as he presented the new farm machinery which included a chisel plow, disc plow, planter, and boom sprayer, all funded under the ATASP-1 Outreach Program to eliminate drudgery and increase efficiency in research work.
Tarawali said: "I have been planning to come here for the past few years but this is a special call and I am happy that I came. It is good that the station is back and has made tremendous progress compared. This place is like my home because I was the last Head of Station here before it stopped operations a few years ago."
While on a tour of the station, Tarawali was elated at the extent of work done on the station despite the funding challenges the Institute is facing. He said: "Now I understand why other management staff members are passionate about IITA Onne. A lot of work has been done here and it requires additional work to make it stand out. We all have to put our hands together to build this place."
In his welcome address, Okechukwu stated that he was pleased to receive Tarawali back "home" and expressed optimism that the Onne station will put in more effort to ensure it becomes the pride of IITA. He also noted that this was the first time personnel from Abuja visited the station.