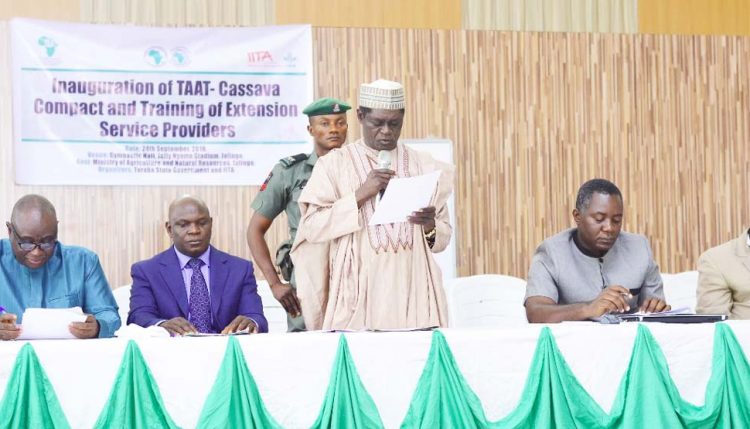 IITA and AfDB to help Taraba transform cassava as part of TAAT framework
IITA says it plans to work closely with the Taraba State Government to transform cassava in the framework of the African Development Bank (AfDB) funded Technologies for African Agriculture Transformation (TAAT) program.
The decision was communicated during a two-day visit to Taraba state on 26–27 September. The visit included the inauguration of the Cassava Compact—a component of the TAAT program, training of extension agents, and site selection and validation for the establishment of cassava demonstration plots.
IITA Director General Nteranya Sanginga said the inauguration of the Cassava Compact of the TAAT in Taraba would open the door for the scaling of new innovations to cassava growers in the state and north-east region of Nigeria. He said the transformation of cassava in Taraba State offers tremendous opportunities in food security and job creation, with the hope of contributing to the reduction of the food import bill of Africa which is presently about $35bn per year. Dr Sanginga was represented by IITA Communication & Knowledge Exchange Expert Godwin Atser.
Governor of Taraba State HE Darius Ishaku commended IITA and AfDB for selecting Taraba State as part of the TAAT Cassava Compact program, adding that the program would amplify the efforts of the state government in cassava transformation and revitalize agricultural activities in the state.
"While we remain grateful to AfDB and IITA for the kind gesture and honor done to the state, I wish to also pledge that Taraba State Government will do its best to ensure the success of the program in the state," Governor Ishaku, who was represented by the Secretary to the State Government, Anthony Jellason said.
The inauguration of the TAAT Cassava Compact was followed by a training of 60 extension agents drawn from the
state Agriculture Development Program (ADP).
The State Commissioner for Agriculture, Dr David Ishaya commended the efforts of IITA and AfDB in transforming cassava and empowering extension service providers, the training participants expressed appreciation for the training and promised to pass on the knowledge to farmers.
Read full article here: http://www.cassavamatters.org/north-east-iita-and-afdb-to-help-taraba-transform-cassava-in-the-framework-of-taat/