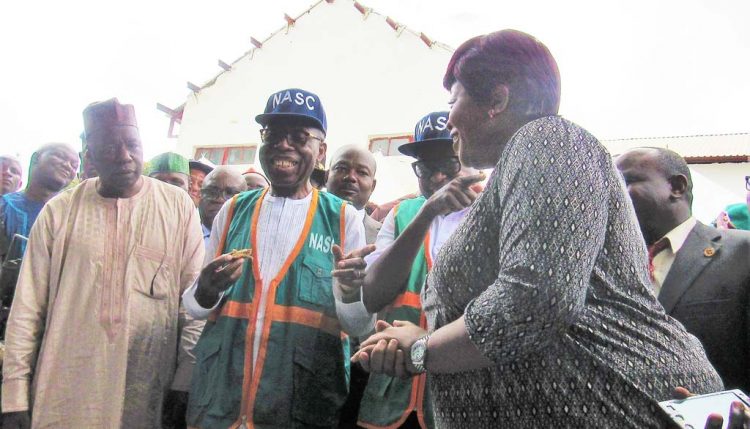 YIIFSWA-II steals the show at NASC Seed Fair Abuja
The National Agricultural Seed Council with the mandate of ensuring the availability and accessibility of quality seed for farmers in Nigeria, hosted its annual seed fair in Abuja on 4 October.
The theme of this year's seed fair was "Enhancing improved seed adoption towards achieving food security." The fair was attended by the Honorable Federal Minister of Agriculture and Rural Development (FMARD), Chief Audu Ogbeh, members of his ministry, research centers, seed enterprises, agro dealers, secondary school children, farmers, and other stakeholders.
In line with this year's theme, YIIFSWA-II exhibited seed yams, High Ratio Propagation Technologies (HRPTs) that ensure the quality of the seed yams produced in the project as well as processed yam foods promoting value addition.
At the opening of the event Norbert Maroya, the Project Leader of YIIFSWA-II, informed the audience of the mandate of the project and its achievements so far after which he invited the Honorable Minister and other participants to the YIIFSWA-II booth to see the potential of the Aeroponics System (AS) one-node vine seedlings from the latest harvest. He also extended an invitation to the Minister to attend the upcoming YIIFSWA-II Demonstration Open Day on seed yam production using HRPTs to take place on 18 October at IITA-Ibadan.
At the YIIFSWA-II booth, the Minister was excited to see the seed yams cultivated from AS single node vine seedlings. He expressed amazement that there were several yam tubers weighing more than 1 kg.
YIIFSWA-II Communication Specialist, Oiwoja Odihi explained that "with the current progression of YIIFSWA-II activities in the nation, farmers will soon have access to quality seed yam of improved varieties for cultivation. Thus, ensuring food security in the nation."
"This is impressive and also to have a water yam variety that can be pounded, fried, boiled, and processed into the various food that we have here is good news. As you know, where I come from we like pounded yam," said the Minister.
The emphasis of the seed fair was to introduce new and improved seed of key crops and to encourage farmers to adopt these new technologies.