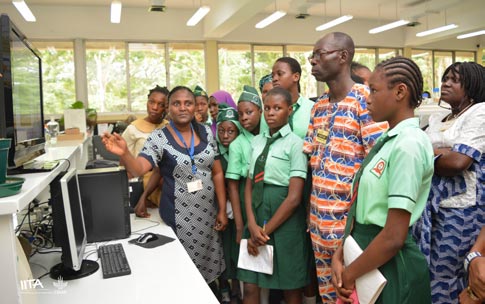 IITA Women's Group sensitizes participants to embrace STEM
As part of efforts to inspire and expand the horizons of students, the Global Youth Leadership and Girl-child Foundation (GYLGF) held its 4th Raising Girls' Ambition (RAGA) international interdisciplinary conference at Lead City University (LCU), Ibadan, on 10–12 October. To commemorate the event, a team from IITA Women's Group (WG) participated and contributed to ensuring that the girl-child rises above the social and psychological limitations that surround them.
The RAGA conference titled "Equipping girls for involvement in science, technology, engineering, and mathematics (STEM) for sustainable development" aimed to expose, empower, inform, educate, and train youth to be self-reliant, economically independent, and able to manage themselves. This provided participants with the opportunity to establish mentoring relationships with successful career women in IITA. The event was attended by IITA management staff, lecturers from Nigerian universities and students of Qibla Secondary School, Bashorun Ojo High school, Lead City International School, Command Secondary School Mokola, Command Children School, all in Ibadan.
Speaking on behalf of IITA WG, Charlotte Sanginga emphasized their involvement in RAGA, through offering of scholarships and girl-child education. She further encouraged the stakeholders to make an impact on the girls especially in STEM, by adopting the children as mentees,  and providing resources for female children. To boost the morale of the students, Ranjana Bhattacharjee, IITA Molecular Geneticist, gave a presentation on the topic "Why are there so few women in STEM? (Stereotypes and threats)," where she highlighted the uniqueness of a female child and her abilities. "We need to identify our strengths and work at improving ourselves and the society irrespective of the discipline because in every science, there is art, and in every art, there is science; invariably they are interlocked," she added.
During the visits to the Bioscience, Genetic Resource Center, Virology, Soil Microbiology and Food and Nutrition Science laboratories, female scientists, laboratory technicians, and assistants gave presentations on their work in the laboratory and science field. Felix Ero, Lecturer at LCU, applauded IITA WG and the entire IITA, saying, "I am certain that with what the students have seen, they will understand the need to make an impact and also have an inquisitive mind to question the 'Why', 'What', and 'How' of things around them, irrespective of their
field of study. This is indeed a revealing and enlightening experience," he added.
At the IITA WG farm, farm managers Gloria Oluwadare and Kazembe Mulenga talked about their activities on the farm from inception to date, and also showed some of their farm produce which included different varieties of fruits and vegetables.
The visit ended with an interaction with six IITA female scientists working in the STEM fields, who served as role models. The girls were given the opportunity to discuss and ask questions. According to Mary Joseph, IITA WG/RAGA Scholarship recipient 2017/18 academic session, "From the discussions we had and from what we saw, we promise you our mothers, teachers, and friends that we will continue to follow the path of science and will make you proud of our achievements as young women."
In his address, IITA Director General Nteranya Sanginga commended the organizers for the opportunity it presented to him to answer a challenge posed to IITA at the awarding ceremony for the Africa Food Prize 2018, which IITA won. He indicated that IITA had developed a program to make agriculture interesting for young graduates, but there was a need to address the younger ones and change their perceptions on farming. He spoke of his plans to implement a version of IYA for younger children in various secondary and primary schools that could help stimulate their passion for agriculture and change their perceptions on the 3 P's–poverty, penury, and pain connected to agriculture.
Dr Adepeju Oti, Founder of GYLGF and initiator of the RAGA Conference, commended IITA WG for its support from the first conference to date. She said, "IITA has been of great support towards the achievement of our goals and has also made great strides in ensuring that youth and the girl-child develop powerful leadership skills. This has further translated to the reason why I said this conference will not be complete until I bring the students to meet and learn from accomplished women and world leaders from IITA. I am convinced that they are at the right place and with the right people."