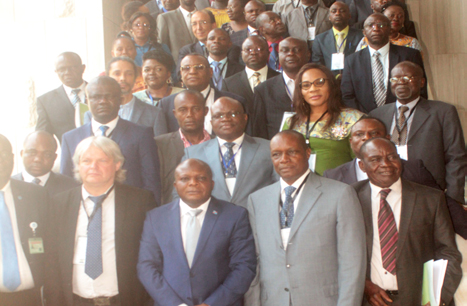 TAAT Cassava Compact forum to develop cassava value chain in DRC
The Ministry of Agriculture of the Democratic Republic of Congo (DRC) and IITA jointly organized a forum to address the development of the cassava value chain in DRC, 18-22 September. The forum was held in Kinshasa and organized under the Cassava Compact of the Technologies for African Agricultural Transformation (TAAT) program.
Despite its economic importance, the cassava value chain in DRC faces several systemic constraints inhibiting growth in the sector. The TAAT cassava compact seeks to address these challenges and aims to establish cassava as an agro-industrial crop in African countries.
In his introductory remarks, the Director of IITA's Central Africa Hub, Bernard Vanlauwe, noted that the Cassava Compact and the TAAT program in general are the result of a shared vision with the African Development Bank (AfDB) and the approach is a push for the rapid integration of technologies into national programs to boost development in Africa. Cassava is one the 18 agricultural value chains that TAAT aims to promote.
The Minister of Agriculture, His Excellency Georges Kazadi Kabongo, in his opening speech, praised the contribution of IITA to the development of the cassava value chain in partnership with the DRC government.
He noted that although cassava remains a raw material for agribusiness, the export of its derivatives will enormously contribute to the national trade balance. He acknowledged that a transformed and modernized agricultural production system, with solid tools and other sectors of the economy can respond to both the problem of unemployment and social integration. Achieving this would require the crucial role of government as a support and catalyst to public and private innovation.
About 160 participants attended the forum from both public and private sector organizations including the Ministry of Agriculture, IITA, commercial banks, the Federation of Enterprises of Congo (FEC), owners of small and medium-sized cassava enterprises, the Confederation of Small and Medium-sized Congolese Enterprises (COPEMECO), along with agro-entrepreneurs, manufacturers of processing products and cassava processors, input suppliers, and delegates from the provinces of Central Kong, Kivu, Kwango, Kwilu, Mai-Ndombe, Mongala, North and Sud-Bangu, and Tanganyika.
A roadmap will be developed in collaboration with all stakeholders detailing the objectives and actions to be achieved for the development of the cassava value chain as well as proposing a holistic and demand-driven approach to addressing the constraints along the cassava value chain.
The IITA Country Representative in DRC, Zoumana Bamba, closed the forum by thanking all the delegates for attending the forum and participating in the discussions on actions and mechanisms to be put in place to make the cassava sector in the DRC more competitive. He said he hoped that the government would set up a monitoring committee to implement the outlined action points of the program.