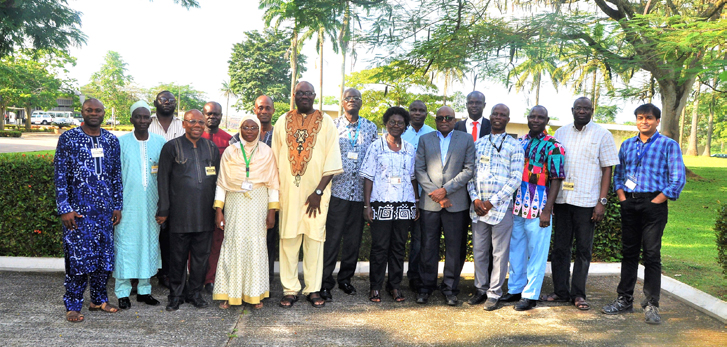 YIIFSWA-II hosts workshop on revising and harmonizing seed yam quality management protocols (Yam QMP)
At the recent Oyo State agriculture investment summit exhibition at IITA, Ibadan, a farmer expressed his lack of interest in yam production. When asked the reason for this, he stated that during the last cropping season, he established 500 mounds of yam but got nothing out of it. Further inquiry established that he bought poor quality seed yam from the market and "most of it was rotten and cutting off the rotted parts did not help." He said the performance of the seed tubers deterred him from cultivating yam.
The linkage between quality seeds and yield needs to be emphasized. Quality seed is a prerequisite to achieving higher yield and good returns for farmers. Moreover, the food security of over 300 million people, mostly in West Africa, who produce and consume yam is dependent on the availability of quality seed tubers.
On 10-13 October, the Yam Improvement for Income and Food Security in West Africa project, phase two (YIIFSWA-II) in collaboration with the National Agricultural Seed Council (NASC) and Plant Protection and Regulatory Services Directorate (PPRSD) from Nigeria and Ghana, respectively, reviewed yam quality standards and certification procedures that were established during the first phase of the project. This review was necessitated by the implementation experiences and lessons learned during the past five years.
The participants of this four-day workshop and training consisted of seed certification officers and experts from NASC, PPRSD, and YIIFSWA-II project.
Speaking on the purpose of workshop, Lava Kumar, IITA Head of Germplasm Health, stated that "The first seed yam quality protocol (Yam QMP-v1) and the seed yam certification procedures were established in September 2013 as part of the YIIFSWA-I project. The Yam QMP aligns with the regulatory procedures of Nigeria and Ghana for breeder seed, foundation seed, and certified seed production. In addition, "symptom severity" was considered for establishing minimum thresholds for pests and diseases for the production of these seed categories. This was the first instance of using severity-based thresholds for seed quality certification, necessitated by the acute limitation of quality and fit-for-purpose seed. However, the industry is changing, and revision of standards has become necessary considering the new seed yam propagation methods such as Temporary Immersion Bioreactor System (TIBS), aeroponics system (AS), hydroponics, Vivi pack, and semi- autotrophic hydroponics (SAH) that have become available to producers."
During the workshop, participants deliberated and agreed on standards for seed yam production in TIBS and aeroponics-based seed production technologies, and drafted guidelines and definitions for accreditation of the production facilities as well as field certification.
After drafting the Yam QMP v-2, a roadmap for effective implementation of seed certification standards in Ghana and Nigeria was developed and the seed certification officers were trained on procedures and methods for seed yam quality certification based on the newly formulated Yam QMP. The training focused on quality control and certification of yam planting materials generated by TIBS, SAH, AS, single-node vine seedlings, micro tubers, minitubers, and minisetts using standard certification procedures. They were also introduced to digital tools such as the 'Seed Tracker' and health indexing using PCR and LAMP methods.