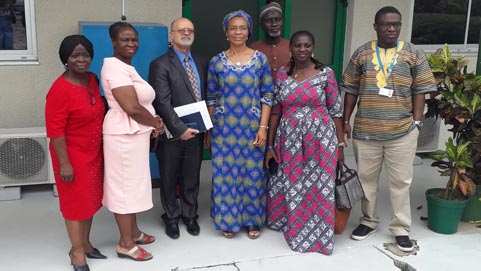 AgResults holds Advisory Council meeting; deliberates on future plans
AgResults Aflasafe™ pilot project held its quarterly meeting on 19 October, at IITA AgResults-Aflasafe conference room, to update, exchange ideas, and create a platform for interaction between the project's National Advisory Council members and the project management staff.
The stakeholders strategized on ways to improve and enhance the adoption of Aflasafe-treated maize for global food security. They also deliberated and discussed the successes and challenges encountered, and ways of improving along the value chains of the project to ensure full sustainability.
Debo Akande, AgResults Project Pilot Manager, presented the Project's progress report for the 20th quarter and plans. "The project has worked with 32 agricultural enterprises and over 50,000 farmers, and aggregated over 104,075 tons of aflatoxin-reduced maize. This accounted for close to 70% of the total maize produced under the AgResults project. The agribusinesses attracted a project-based incentive of US$1,447,152.63 for a positive outcome of their innovative businesses in producing aflatoxin-reduced maize," he further explained.
Ensuring the sustainability of the agricultural enterprises beyond the project implementation period remained the major point of discussion during the meeting. Suggestions towards the sustainability of the scale-up and commercialization of Aflasafe were given by the participants. These included policy advocacy among the different Advisory Council members, awareness creation among the general populace on aflatoxin issues, and continued quality control from IITA.
The council members toured the AgResults/Aflasafe laboratory which included the incubation room, media culture room, main microbiology lab, pyrosequencing and DNA sequencing room, cold room, and sample preparation lab.
They were also brought to the Aflasafe factory by Lawrence Kaptoge, General Technical Manager, Business Incubation Platform (BIP), who explained about plans to upgrade the plant to produce in bulk 5 tons/hour and install a 5-ton/hour packing unit at the HarvestField Industries Ltd (HIL) site in Lagos. HIL is the licensed manufacturer and distributor of Aflasafe in Nigeria. This upgrade is required to meet the high demand for Aflasafe in Nigeria and beyond.
Applauding IITA for its leading efforts to significantly improve the livelihood of farmers through its research, Stella Denloye, Country Officer, Nigeria, Partnership for Aflatoxin Control in Africa (PACA), delightedly said "Although IITA is well known for its transformation agenda, I am impressed with the fact that the AgResults project is contributing to secure the future of farmers not just in Nigeria but in the whole sub-Saharan Africa by improving their productivity and income levels. We are indeed proud to be associated with IITA!"
The project exploits the principles of the "pull mechanism" to successfully promote and disseminate Aflasafe. The project encourages private sector-driven and profit-oriented agriculture and provides smallholders with economic incentives for adopting Aflasafe™.