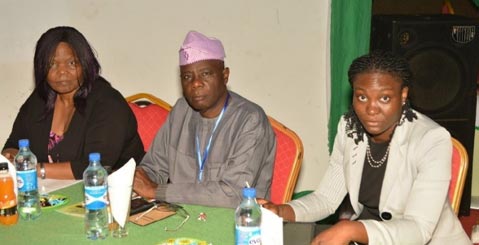 IITA participates in 42nd NIFST conference
The 42nd Conference of the Nigerian Institute of Food Science and Technology took place 15-18 October at the Olusegun Obasanjo Presidential Library, in Abeokuta, Ogun State, Nigeria. It brought together professionals from academia, industry, government, and research institutions to deliberate and share experiences. The theme of the 2018 Conference was "Innovations in food science and technology for economic growth."
As one of the key sponsors of the event, IITA hosted a mini symposium on Food Systems for Healthier Diet (FSHD), an ongoing flagship project under the CGIAR Research Program on Agriculture for Nutrition and Health (A4NH), during which researchers shared key findings as well as current milestones of the research program in Nigeria. The Session was convened by IITA Senior Food and Nutrition Scientist and A4NH Nigeria Country Team Leader, Dr Bussie Maziya-Dixon and chaired by the Vice Chancellor of Bells University of Technology, Ota Abeokuta, Professor Isaac A. Adeyemi. There were three presentations during the Session with the speakers drawn from the Nigeria Country Office of the Food and Agriculture Organization (FAO), the Federal University of Agriculture Abeokuta (FUNAAB), and IITA.
In his opening remarks, Prof Adeyemi noted that the FSHD approach is a required project, especially at a time when the country is confronting serious nutrition challenges. He stated that the session closely fits into the theme of the Conference.
Dr Olutayo Adeyemi, presenting on behalf of the FAO Nigeria Country Representative, Mr Suffyan Koroma, pointed out that significant reduction in malnutrition among children and women of reproductive age is among the key agenda in the Sustainable Development Goals (SDGs). She also noted that malnutrition has significant financial and economic costs, which invariably hamper the economic growth of a country. Given the daunting statistics on malnutrition, she cautioned that Nigeria may leave more people behind by 2030 if a drastic approach to stem the tide is not given serious consideration.
Speaking on "Food systems for healthier diet in Nigeria: A research agenda," IITA Food and Nutrition Research Associate Yusuf Adekunle stated, "the study is a collaborative as well as multidisciplinary project under CGIAR A4NH geared to responding to concerns about global diet trends, and demand from countries for systemic solutions to address the problems of food insecurity and malnutrition." He went on to identify several gaps in Food Systems in the country including the need for in-depth empirical work linking market access for farmers to dietary quality, the agricultural production-nutrition linkages, nutritional outcomes of agricultural value chains, and impact evaluation of agricultural policies or program on nutritional outcomes of smallholder farmers with focus on women and children, among others.
An Agricultural Economist from the Federal University of Agriculture, Abeokuta (FUNAAB), Dr Dare Akerele, gave a presentation titled "Dietary gap analysis in Nigeria" on behalf of the Wageningen University and Research (WUR), a leading IITA partner on the FSHD flagship project. He highlighted approaches in assessing dietary gaps in Nigeria with the findings that a significant proportion of households have below recommended calorie consumption and essential nutrient levels. There was evidence of low consumption of fruits and dairy products with northern states consuming fewer food groups and having a lower Household Dietary Diversity Score (HDDS) than southern states, and a higher HDDS in urban areas than rural areas.
Maziya-Dixon in her closing remarks pointed out that getting effective solutions to food systems requires collaborative effort from all parties and emphasized that partnerships remain key towards delivering sustainable and resilient food systems that promote healthier diets for all.