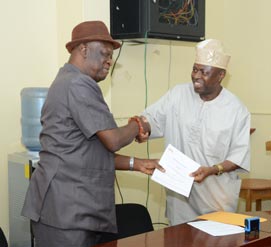 IITA signs MoU with media company
In a bid to disseminate IITA's best-bet proven innovations, and improve the institute's visibility, IITA and the Metropolitan Broadcasting Services (MBS) have signed a memorandum of understanding (MoU) to move the agenda forward.
The signing took place on 21 November as a delegation led by Owolabi Oladejo, the President and Founder of MBS, and Alhaji Abiola Alli, MBS General Manager, was received by Alfred Dixon, Director of the Development and Delivery Office and Katherine Lopez, IITA Head of Communication. Dixon welcomed the delegation and emphasized the Institute's vision of transforming African agriculture through research for development and partnerships for delivery and solve the challenges of malnutrition and poverty in sub-Saharan Africa. He said, "The only way we can effectively achieve all these, is by partnering with organizations like MBS that would help deliver and disseminate our research impact to farmers and other end users, while increasing visibility."
Reacting to Dixon's statement, Oladejo said, "It is indeed a privilege to partner with a reputable and world class leading research institute like IITA. To achieve one of our core missions, which is to close the gap between science and delivery, there has to be open communication between the two parties. I believe that if we adhere to the terms and reference of this MoU, not only Nigerians, but also the entire world will hear and benefit from the impact of your research, because I believe that is the major reason for your innovation."
The two organizations held discussions and highlighted areas of common interest, such as capacity development to expose youth to the benefits of agriculture and dissemination of IITA's research findings. The two organizations signed the MoU to formalize the collaboration to effectively work together to bridge the research-to-delivery divide.
Echoing the importance of partnerships for delivery, Dixon said, "I belong to a directorate that believes that for research to be considered successful, it must get into the hands of the resource-poor farmers and other beneficiaries. I believe this collaboration would help us achieve our aim and build our presence across Nigeria." Concurring, Oladejo said, "We are determined to see how we can work with IITA to impact the world. Having an institution like IITA as a partner is an achievement we are proud of. If you have anything to tell the world, just say it and I assure you that the world will hear of it!"
While giving the closing remarks, Lopez reiterated IITA's commitment to work with partners in helping solve the challenges of food and nutrition security and urged MBS to help spread the gospel about IITA's innovations.