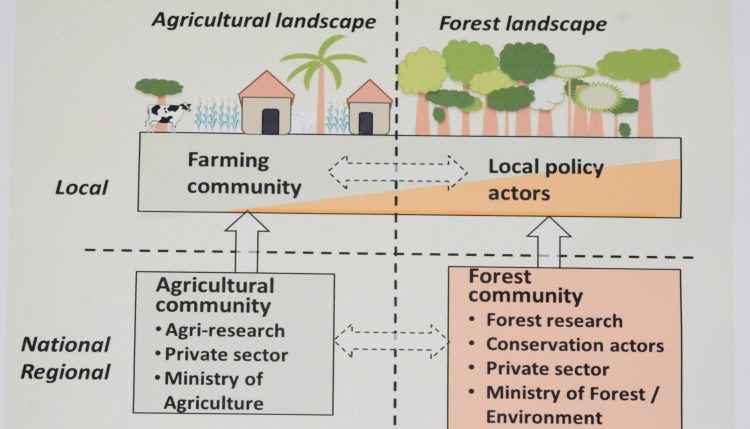 AWF and IITA proffer sustainability and conservation interventions in DRC
The tropical agricultural research project "Mapping patterns of governance and technological innovations in a tropical forest–agriculture frontier of the Democratic Republic of Congo" was carried out from December 2012 to September 2018, and covered a 2000 km² area in Carré Djolu-Befale (CaDjoBe), around Djolu-Lingomo, Lingomo-Mompono, Mompono-Befori, and Befori-Djolu in Tshuapa Province of Democratic Republic of Congo. The 6-year project, sponsored by African Wildlife Foundation (AWF) and IITA, was implemented by triangulating satellite forest cover with ground truthing, household surveys, and farm inventories.
The main objective of this AWF and IITA partnership in the Maringa-Lopori-Wamba (MLW) landscape in the Tshuapa Province was based on the participative forest conservation through a wide program targeting the ecological integrity of the humid forest ecosystem of the Congo Basin.
Before the commencement of the research, relatively little attention was given to the development of a governance model for the innovation and diffusion of productive conservation technologies; and the existing productive conservation processes were complex. Hence, planned interventions to mitigate negative environmental impacts of existing livelihood strategies identified intensification and diversification of agricultural production as key action areas. Some of the IITA researchers on this project included Project Coordinator Nzola-Meso Mahungu, Regional Scientist on Agricultural Intensification Kehbila Anderson, and Research Associates Willy Tata-Hangy and Frangoie Antoine.
Several improved cassava, rice, maize, and groundnut varieties as well as six improved cowpea and soybean varieties all underwent adaptive field trials in the landscape.
Researchers discussed how to govern productive conservation, mapping patterns of governance, and technological innovations in a tropical forest in DRC. It was observed that 354 farmers' association with 4525 members were active while directly participating in activities of the IITA SOIL program. The number of households who received IITA intervention is estimated at 5487 matching an evaluated population with 63,099 inhabitants.
It was also noted that 39 improved varieties were introduced into the MLW landscape in contrast to the usual management practices of six, while 2071 members of active associations (1070 men, 52%) and 1001 women, 48%) were trained on various fields aspects.
Four food crops were identified as strategic crops for the subsistence of majority of the population namely cassava, maize, rice, and groundnut. Two grain legume crops, cowpea and soybean which are rich in protein, were introduced to improve nutrition in the diet.
Finally, to increase crop productivity, high yielding varieties of these strategic crops were introduced in the landscape and evaluated through Participatory Variety Selection (PVS) model with farmers for adaptation and adoption. Through PVS, three to five improved and high yielding cassava varieties (Obama, Nsansi, and Zizila) were among 10 introduced varieties that have been adopted and are widely cultivated by farmers. Two maize varieties (Kasai and Mus), two rice varieties (IRAT 112 and IRAT 216) and two groundnut varieties (JL12 and Sivi) are now used by farmers.