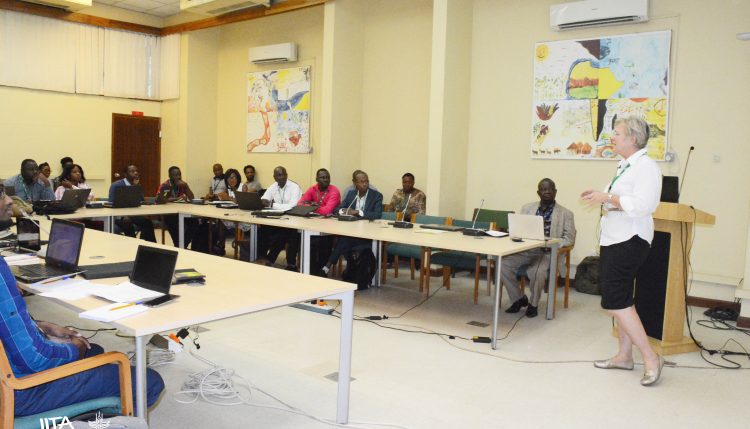 IITA equips scholars with policy brief and scientific writing skills
IITA organized a workshop for the 20 fellows that qualified for the research grant for "Enhancing Capacity to Apply Research Evidence (CARE) in policy for youth engagement in agribusiness and rural economic activities in Africa" funded by the International Fund for Agricultural Development (IFAD), on 19–23 November.
The purpose of the 5-day training was to equip the awardees with knowledge of policy briefs and scientific writing. The workshop, attended by scholars from the IFAD identified priority countries— Benin Republic, Cameroon, DR Congo, Malawi, Nigeria, Senegal, Tanzania, and Zambia—provided an opportunity for awardees to develop skills to write clear and interesting research papers and also develop skills to apply principles of effective writing as it pertains to reviewing and publishing peer-reviewed papers.
Speaking at the opening ceremony, Victor Manyong, IITA Director for Eastern Africa Hub and Leader of the Social Science and Agribusiness Research Group, welcomed the participants and encouraged them to seize the opportunity to acquire the skills necessary for policy brief and scientific writing. "This training focuses on giving young scholars a range of transferable skills that they can apply in their research. In particular, it will develop the ability of students to undertake independent research projects and assist them in their personal development while improving their ability to become proficient in research," he said.
"I am optimistic that after this training they will be able to write good policy briefs and know some key findings that would have an impact on youth and their partners' capacities (policy makers) to deliver improved policies and investments that are effective at supporting youth in agriculture. A strong involvement of Africa's youth in rural development and agriculture will boost economic growth in the continent," he added.
The major food and agricultural challenges are highly complex and multidimensional, technological, sociocultural, economic, institutional, and political. Prominent reports have suggested that research priorities should move away from historically well-funded areas such as the productivity of individual commodities. This implies that empowering youth to become innovators and entrepreneurs in agriculture is key to solving some of the most binding constraints to growth of a prosperous agricultural sector, thriving agribusiness value chains, and improvement of food and nutrition security. However, the training seeks to create new knowledge on challenges as well as to understand the factors of success or failures of young agribusiness entrepreneurs.
The workshop was facilitated by Maureen Kilkenny, Michael Ajayi, and Rodger Obubo and exposed the participants to the theoretical and practical ways of writing scientific papers and policy briefs to help build their knowledge and increase their level of understanding of factors influencing youth engagement in rural economic activities. "This knowledge will contribute to promote innovative, pro-poor policies with the potential to be scaled up for greater impact and to strengthen policy capacities among the awardees," said Kilkenny.
The awardees gave presentations on their reviewed research output under four interrelated components, namely desk review of research and projects on youth in agribusiness and rural economic activities, young scholar's research capacity development, capacity development in production of research evidence for policy-making, and communication, advocacy, and policy dialogue. These components are considered crucial to build a fully functional science-policy interface to support policy-making on youth in agribusiness and rural economic activities.