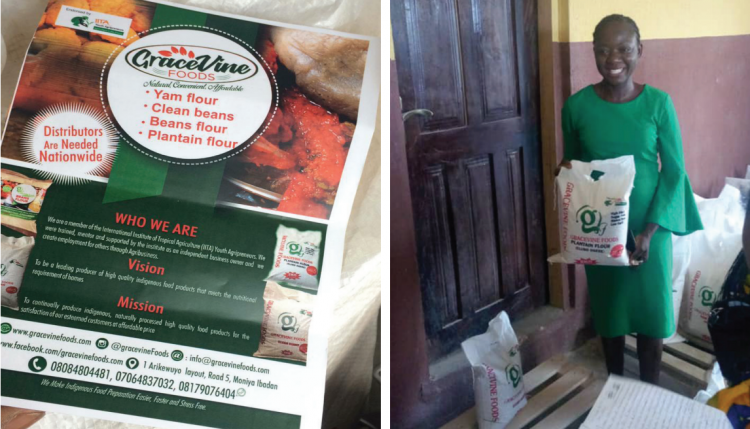 Youth Agripreneur insists beans can be preserved naturally without using Sniper
Bose Idowu graduated from the Federal University of Agriculture, Abeokuta (FUNAAB) with a BSc in Animal Science and an MBA in Agribusiness. She joined the IITA Youth Agripreneurs (IYA) program in 2012 as part of the Cereals and Legumes team, where she was trained in cultivation and farm management on farms in northern Nigeria.
"We used to plant soybean, maize, and cowpea on 20, 40, and 50 hectares, respectively, on a yearly basis. And I happened to be one of the supervisors," she recalled.
It was at this point she conceived the idea of catering to a local market and, putting together capital of ₦500,000 which she had saved from the stipends she received from IYA, Bose began her business by purchasing and then reselling cowpea (beans) at the local marketplace.
She continued with the aggregation business model until 2016 when she secured extra funding from IITA and other donors that enabled her to cultivate a 5-hectare farmland of cowpea thus helping her expand her operations to production, processing, and packaging of cowpea.
Further funding came in 2017 with which she was able to rent and set up a factory, equipping it with processing machinery including a pulverizer and bean cleaning machine. Today, Idowu is the CEO of GraceVine Foods, employing four permanent staff along with other temporary farm and factory staff who are hired whenever there is need.
Idowu shared her story with a group of journalists and communication specialists who visited the factory as part of a workshop organized by the Enhancing Capacity to Apply Research Evidence (CARE) in Policy for Youth Engagement in Agribusiness and Rural Economic Activities in Africa project, which is a partnership project of the International Fund for Agricultural Development (IFAD) and IITA.
The workshop delegates were taken on a tour of the factory whose production capacity far outweighs current demands. The current product offerings have been expanded and now include clean beans, yam flour, plantain flour, beans flour, and local rice, which is a recent addition.
Following the recent widely publicized scandal of preserving beans using a chemical insecticide popularly known as sniper, Idowu was asked how she tackles storage and preservation from the scourge of weevils.
She pointed out that the value proposition of offering natural products without the use of chemicals for preservation remained at the core of GraceVine operations and insisted that natural preservation is possible. She noted that proper storage starts at the farm and by buying the freshly harvested products straight from the farmers, you are able to transport and then clean the beans in the factory thus ensuring product quality from the onset.
After cleaning, the produce is bagged properly for storage and distribution. "Once you are able to seal properly in air-tight packaging, for that period you are assured that your beans will be free of weevils," Idowu maintained.
She enjoined other producers and marketers to prioritize the health of consumers and adopt natural storage technologies such as the purpose-made PICS (Purdue Improved Crop Storage) bags which will keep weevils out while preserving the beans in their natural state well beyond 6 months. Idowu however pointed out that the presence of weevils can sometimes be a pointer that the beans are natural and have not be treated with any chemicals.
Speaking about future plans for GraceVine, Idowu stated that applications have been made with the National Agency for Food and Drug Administration and Control (NAFDAC) for proper product certification. Not having certification has limited distribution as the company is unable to supply the bigger supermarket chains, but once certification has been completed, she plans to scale up production and distribution to cater to the out-of-town market with export possibilities also being considered.