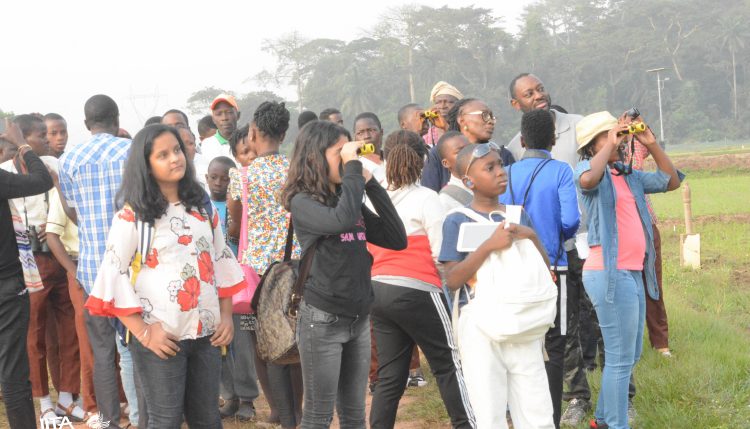 Forest Center of IITA celebrates 'First-ever' Nigerian Bird Festival
On 6 and 7 December, the IITA Forest Center celebrated the first-ever Nigerian Bird Festival with funding support from the AG. Leventis Foundation and US Consulate General, Lagos. The event convened students, ornithologists, environmentalists and nature lovers on the IITA-Ibadan campus, to celebrate birds and highlight the need to protect them and their habitats. Over 70 representatives from different organizations and institutions attended the maiden event including the A.P. Leventis Ornithological Research Institute (APLORI), University of Jos, Nigerian Conservation Foundation, members of the Forest Center's School Conservation Clubs (SCCs), comprising University of Ibadan, Federal University of Technology Akure, Adejare International School, Ibadan, American Christian Academy, AUD High School, Ibadan, Olive Branches Group of School, Osogbo, Ilesha Grammar School and Saint Anthony's High School Ikoyi-Osun.
In his opening remarks, Adewale Awoyemi, Forest Center Manager, welcomed participants to the event and brought into limelight the importance of birds. He said "from indicating the status of the environment to environmental cleanliness and pest control, birds are such a wonderful creature that assist in stabilizing different ecosystems. Apart from the ecosystem services rendered by birds, they are also living organisms and have the right to life, which we must all respect", Awoyemi said. He further emphasized the need for harmonious relationship between humans and nature.
Thereafter, participants were engaged in various activities aimed at elucidating the beauty of nature such as camping, bird-related poems, drama and bird identification competition. One highlight of the event was the exhibition displayed by the participating SCCs and other presenters. Their exhibition focused on four thematic areas including waste management, climate change and its impacts on birds, importance of birds in the ecosystems and drawing, painting, costumes and pictures of birds, all demonstrating the beauty and services provided by birds and why we need to conserve them.
Another highlight of the festival was the presentation of an "Award of Excellence in African Ornithology" to Professor Shiiwua Manu, who is the Director of APLORI and Technical Advisor to the Forest Center. The award was presented to him for his dedication to bird conservation by Hilde Koper-Limbourg (IITA Deputy Director General for Corporate Services) on behalf of IITA. Upon receiving the award, Prof Manu expressed his delight saying, "I am privileged to have been recognized by a reputable organization like IITA and will continue to promote the conservation of birds and other taxa". He commended Forest Center staff for their dedication to duty and encouraged participants to contribute to the protection of biodiversity. All presenters at the event were also presented framed photographs of birds.
In her closing remarks, Koper-Limbourg, commended Forest Center staff for their innovative ideas on biodiversity conservation and promised that IITA would continue to provide the institutional support to ensure the conservation of Nigeria's rich biodiversity. She thanked all participants and encourage them to inculcate sustainable management of natural resources in their daily activities.

Group photograph of all the participants with the organizers