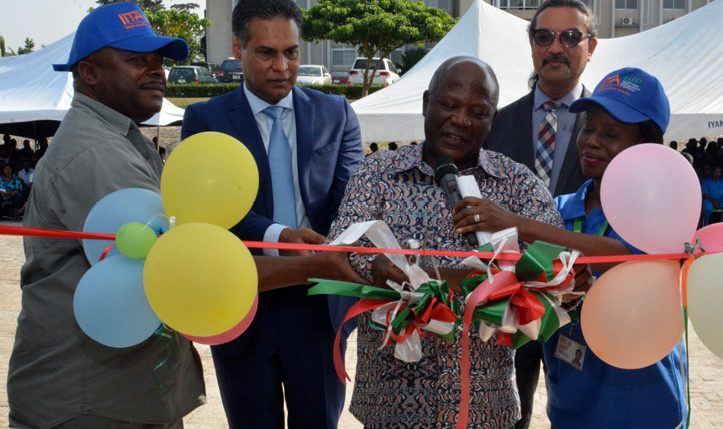 IITA Tissue Culture Building launched in grand style
On 30 November, the 2018 P4D Week closed with the commissioning of the Tissue Culture Building. The event, which was anchored by Katherine Lopez, Head of Communication, was attended by a thousand staff members led by IITA Director General Nteranya Sanginga, all the Deputy Director Generals, IITA Board Chair Amos Namanga Ngongi, and Board members, including partners.
During the first part of the program launching the new Tissue Culture Building, Mercy Diebiru-Ojo, IITA Seed System Specialist who is also in charge of the IITA GoSeed Limited, gave a brief background on the newly completed structure: "The building is funded by the Nigerian government with a loan from the African Development Bank (AfDB) through the Nigeria Agricultural Transformation Agenda Support Program (ATASP). Last year, during the 50th year celebration, we had the groundbreaking performed by His Excellency, Dr Akinwunmi Adesina, AfDB President."
Diebiru-Ojo further explained the need for the Tissue Culture Building: "IITA has put a lot of effort into the production of good varieties of crops, but there is the need to scale these varieties out. This is basically what GoSeed is doing, and will continue this, in this building, on a commercial scale."
In his remarks, IITA DDG-P4D Kenton Dashiell spoke of the importance of the Tissue Culture Lab as a testament of IITA's commitment to its vision. He said: "The buildings that we have in
IITA, all over Africa, are very important because they show the countries where we are working that we are serious. We are here to stay; we have buildings that we own and we are part of developing their countries."
Dashiell applauded DG Sanginga for his visionary and dynamic leadership in getting the Institute to this point. He also welcomed and appreciated the partners on the project noting that the goal of transforming African agriculture can only be achieved through the right partnerships, both in the the public and private sectors.
The dedication of the building was finalized with a symbolic ribbon cutting anchored by the Board Chair Namanga Ngongi. Diebiru-Ojo then conducted a tour of the facility which will house tissue culture activities on a commercial scale.
The team will be offering clientele services for rapid multiplication of crops in conjunction with private partners, Contec Global and Nigeria Flour Mills. The building will house different offices such as the Development and Delivery office led by Director Alfred Dixon, the Business Incubation Platform office led by Chief Executive Officer Frederick Schreurs, the TAAT office headed by the Program Management Unit Coordinator Chrysantus Akem, and the mechanization offices.