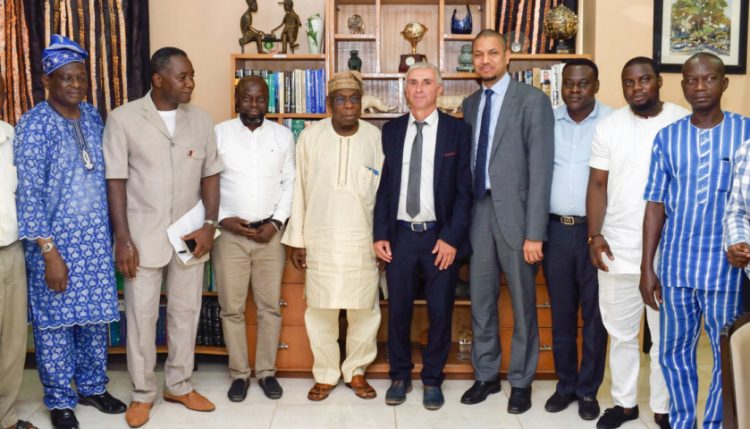 Obasanjo to join forces with IITA and Bayer on disseminating innovations on weed control and others to farmers
Former President of Nigeria, Chief Olusegun Obasanjo, has agreed to support the dissemination of improved technologies on weed control and other agricultural innovations to farmers, as part of efforts to bring about agricultural transformation in Africa. Chief Obasanjo declared his position when he received a delegation comprising Bayer and IITA officials in Ogun State.
The delegation presented reports from the IITA–managed Cassava Weed Management Project on the efficacy of Lagon—a cassava and maize weed control herbicide from Bayer. They also presented the former president with the Six Steps to Cassava Weed Management toolkit—a step-by-step extension guide for controlling weeds in cassava farming systems that has proven to double yields of cassava from the current national average of 10 tons per hectare to more than 25 tons per hectare.
Receiving the presentation, Chief Obasanjo commended the team for a job well done and promised to support efforts of getting the word out. "We want to be a hub for spreading the good news," he stated.
Earlier, the Country Cluster Commercial Lead for Bayer West/Central Africa, Laurent Perez, said the company was willing to work with the former President to improve the livelihood of farmers.
"As a major stakeholder and strong voice in Nigeria and Africa, Bayer is willing to partner with Obasanjo Farms to achieve our set objectives for Nigeria," he added.
Perez noted the strategic role of Nigeria in the field of agriculture, stressing that the country has huge potential and a very active agricultural environment. According to him, it was in the light of the potential of Nigeria in the agricultural space that Bayer AG Germany decided to make a long-term investment in the country.
He called on the Nigerian government to come up with policies that would be investor friendly so that the huge potential in Nigeria could be fully tapped and utilized.
The IITA Director of the Development and Delivery Office and Cassava Weed Management Project Leader, Alfred Dixon, stated that the improved weed control options being developed by IITA and Bayer are helping farmers to achieve more than double their cassava yield.
Dixon, who was represented by IITA Communication & Knowledge Exchange Expert Godwin Atser, reiterated the willingness of IITA to work with the former President to lift farmers out of poverty, noting that weeds were depleting farmers' incomes and limiting farm sizes.
The delegation, which included the Managing Director, Bayer Middle Africa, Mohammed Jimoh; Country Sales Manager, Temitope Banjo; Development & Regulatory Affairs Manager, Ahmed Mansur Bello; and Area Sales Manager, South West, Adeyemi Adeyemo; also discussed other areas such as crop protection, training, and seeds and came up with an action plan.