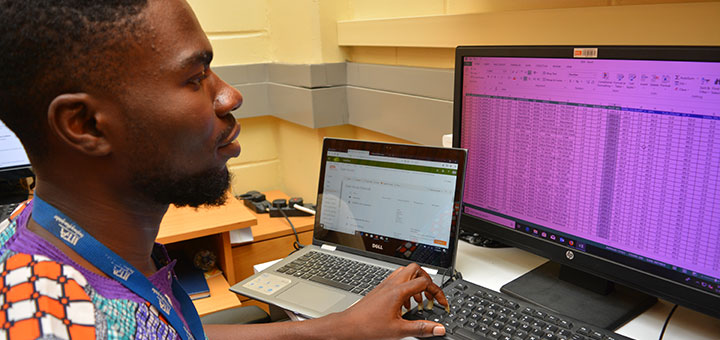 IITA research data now more visible to users!
The visibility of IITA research datasets in GARDIAN in 2018 is a major achievement for IITA, championed by the Data Management team under the Communication Unit. GARDIAN, an acronym for Global Agricultural Research Data Innovation and Acceleration Network, is a search engine created by CGIAR to crawl and index datasets as well as publications in institutional Open Access repositories across all CGIAR centers. It is systematically and technically synchronized with CKAN, the IITA institutional research data repository, thus making datasets of our scientists now more visible to users of the data such as funders and stakeholders, for use in better decision making and more funding.
This technical breakthrough has been underscored as a future CGIAR goal and was announced to the IITA community at a session during the 2018 Partnerships for Delivery (P4D) Week held on 26–30 November in IITA headquarters in Ibadan. During the presentation by Medha Devare, Senior Research Fellow and Module Lead, IFPRI/Big Data Platform on behalf of the IITA Communication Unit, the visibility of scientists' datasets was projected using GARDIAN as a search engine and showing the growth of CKAN with quality datasets. During the live search demonstration, IITA was cited to be at the forefront in "FAIR" data implementation, attesting to the high-quality datasets, and scoring high on the FAIRness scale.
Support for cleaning up and producing quality datasets saved on the IITA institutional archive was provided by the CGIAR Big Data Platform under the leadership of Tonny Omwansa, the institutional Big Data focal point. Devare emphasized the efforts of IITA in putting together a data management team that curates research data and publishes quality datasets that are highly Findable, Accessible, Interoperable and Reusable (FAIR) for the institution.
This achievement was made possible, thanks to joint efforts of scientists and the Data Management team, which enabled the open data repository (CKAN) to grow from a few datasets to over 200 datasets in just 6 months. The quality of the data is second to none as ensured by data curators in the team.
The institutional CKAN repository on Sharepoint was formally launched in July 2017. Data generated from IITA research, including breeding trials, socioeconomic and household surveys, characterization and evaluation studies, among others, are made available in CKAN. In 2018, links with project managers and database coordinators were strengthened to ensure that research data is captured, organized, and curated.
A year after the launch of the institutional database platform, not many researchers have uploaded their research outputs. Still, IITA remains as the top CGIAR center to have the most number of datasets in the institutional repository, with CKAN recently receiving a badge or seal much like an ISO certification from the Karlsruher Institut für Technologie (KIT) Bibliothek — https://www.re3data.org/repository/r3d100012883. Our CKAN repository is now part of the ivy league of certified OA repositories. This will help increase the visibility of our datasets, scientists, and IITA as part of the world's leading contributors to open research data.
The Plant health and plant production domain constitute the most number of datasets in CKAN, with Western Africa contributing the most number of datasets—at 225, and Ousmane Boukar providing the most number of datasets at 76.