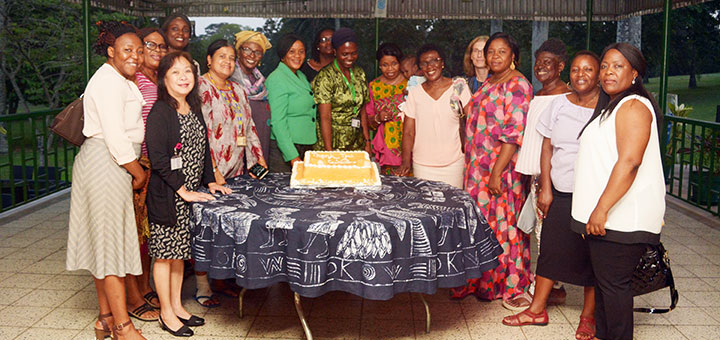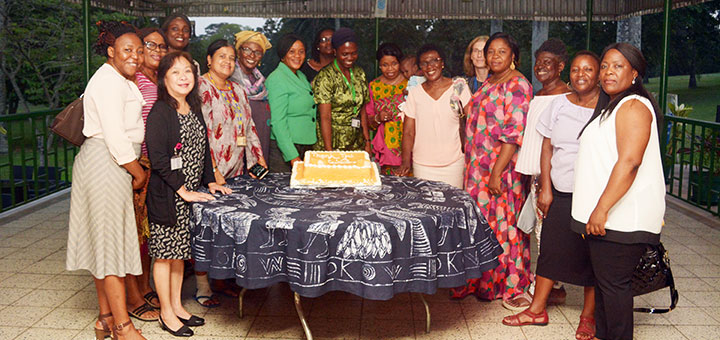 2
IITA Women's Group awards scholarships
The IITA Women's Group (WG) organized a scholarship award ceremony at the Institute's headquarters on 22 November. The award scheme is designed to assist IITA national staff on or below PG 6 in sponsoring their children for an academic session.
The ceremony was attended by members of WG led by Charlotte Sanginga, Head of the Scholarship and Charity Committee; Lilian Mendoza, Head of Human Resources; Hilde Koper-Limbourg, Deputy Director General, Corporate Services; and parents of the awardees, with the aim of recognizing the cognitive ability of the privileged awardees.
In her welcome address, Mendoza thanked the donors and the WG for their significant contribution to the future of the children. She said that education is the best legacy and as such, should be the best gift that can be given to any child. She advised awardees to dream big and study hard to be in a position to contribute to the future of others in years to come.
Mrs Sanginga thanked the WG for the effort they put into the screening process. She advised parents to help their children prepare well for the coming year, because this year's scores were significantly low, with only five applicants meeting the cut-off point. The cut-off was reduced to 60% so that more applicants could benefit. Due to the reduction, there were 45 recipients; 25 from Ibadan and 20 from other locations including Cotonou and Kinshasa. Of the 25, there were 10 junior secondary students, 9 senior secondary, and 6 post-secondary students. The examination comprised Math, English, aptitude tests, and essay questions.
According to Edith Badu-Apraku, Chairperson of WG: "The vision of the group is to contribute significantly to  society by helping people. Apart from giving scholarships, IITA Women's Group also renders help to orphanages and the less privileged."
While delivering the closing address, Koper-Limbourg commended the organizers for their brilliant idea of securing the future of the next generation of leaders, and encouraged their parents to continue helping the awardees to study hard to excel in their studies. She also encouraged the awardees to "be the light" to their peers.
Speaking on behalf of parents of the awardees, Jacob Ode expressed his gratitude to the WG for helping IITA junior staff with financing the education of their children. The ceremony ended with a vote of thanks from Gbemi Babarinde, an awardee for post-secondary education, who appreciated the organizers for the positive impact in their lives and who on behalf of the recipients, pledged to do their best to make their parents and sponsors proud.