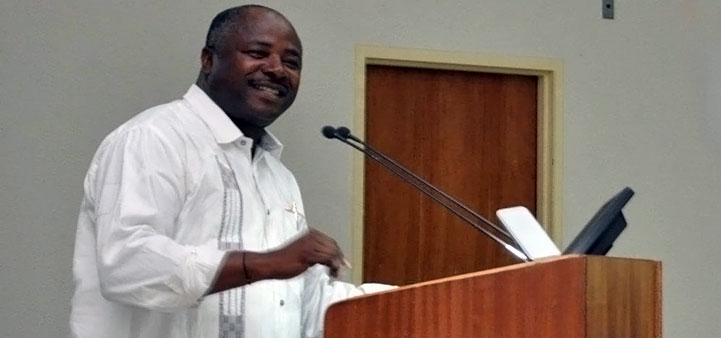 IITA's transformation initiative pays off in Africa
IITA has lifted 7.2 million Africans out of poverty through its research innovations. The success of projects carried out by the Institute in 2018 has immensely helped in achieving a large percentage of its goal, according to Director General Nteranya Sanginga.
Sanginga, in an interview with the News Agency of Nigeria (NAN), said that as part of achieving its goal of poverty reduction for over 11 million Africans, IITA has succeeded in lifting 7.2 million out of poverty. He added that in the process of working to achieve other goals, which are to redirect over 7.5 million hectares of underutilized, marginal, degraded lands to more productive, sustainable use, and increase yields of major crops by 60 percent, the Institute has obtained about 895,000 ha of restored degraded land associated with the adoption of improved technologies developed by IITA and partners.
The DG said that on-farm yield assessment showed that farmers' adoption of improved varieties and good management practices resulted in 50–80 percent yield gains in maize and soybean. He added that research for development (R4D) efforts in scaling out successful drought tolerant maize in the dry savanna and excellent research on reducing the breeding cycle of banana and plantain contributed to the above goals. He also mentioned that the liquidity status of the Business Incubation Platform (BIP) enterprises—the ease at which assets can be converted into cash—improved from 303 days to 94 days of actual sales.
In addition to improved cash management, the BIP enterprises achieved operational profitability in 2018.
Sanginga also mentioned that in 2018, IITA was awarded the Africa Food Prize in recognition of its contributions to innovations, food security, and economic development through agriculture across Africa. "In awarding the prize which had a worldwide recognition during the World Food Prize award ceremony in Des Moines, Iowa, on 18 October, the committee chairman, former President Olusegun Obasanjo, recognized IITA for generating solutions on and off the farm that have improved the lives of millions in the face of climate change, surge of crop pests, disease and urgent need for youth employment across Africa.
"IITA refined its strategy to direct youth from diverse academic disciplines toward agribusiness careers through the IITA Youth in Agribusiness (IYA) program which strengthens youth participation in agricultural transformation through agribusiness establishment and growth," said Sanginga. "Between November 2017 and November 2018, we completed three new studies on impact of soybean innovations in Malawi (1,237 households in six major soybean-growing districts), cowpea improved varieties in Northern Nigeria (1,525 households in 10 states) and we also have the Adaptive Yam Minisett Technique (AYMT) in the yam belts of Ghana and Nigeria (1,400 households)," he added.
In conclusion, he said, "We have numerous successes not mentioned here. Although the situation is still challenging, I am optimistic that we will make more important giant strides in 2019.''